Hard to believe how life on trail just throws the most surprising and unexpected things at you! Anybody who is thinking about it: please consider hiking the PCT or another long trail and meet the most wonderful people!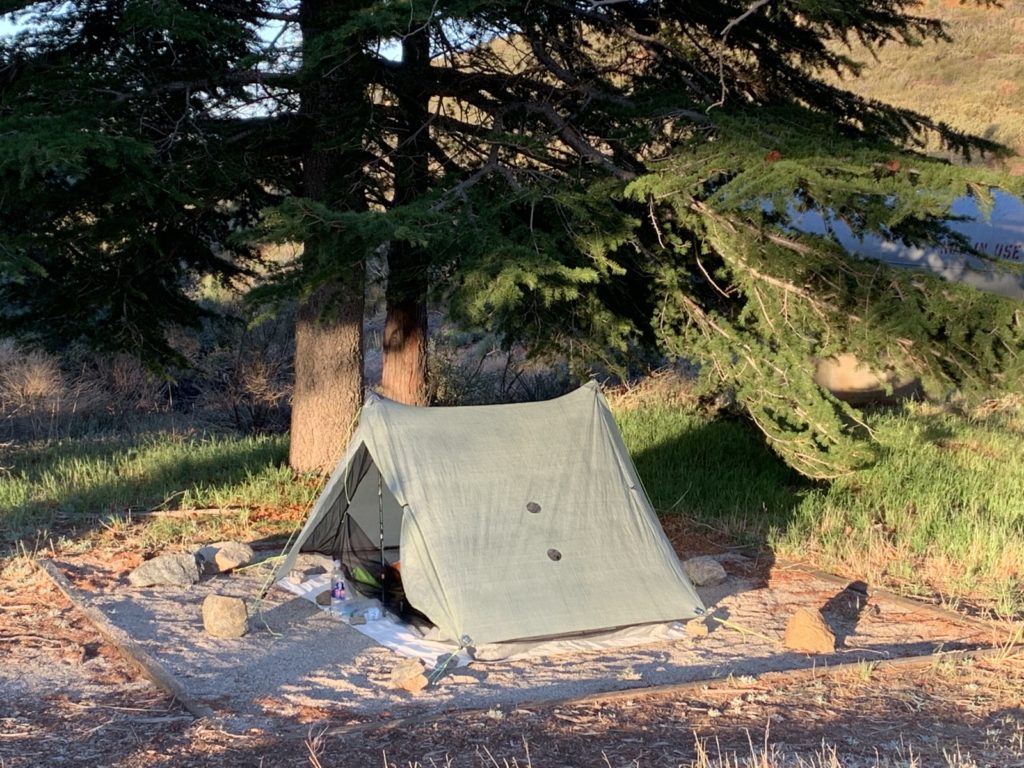 So the morning started relaxed … the sun came up and hit the tent, the mist had disappeared and everybody there (except Hollywood who headed out early) took it easy. I had a double coffee and left around 7:20am. Ranger station bathroom was definitely a bonus!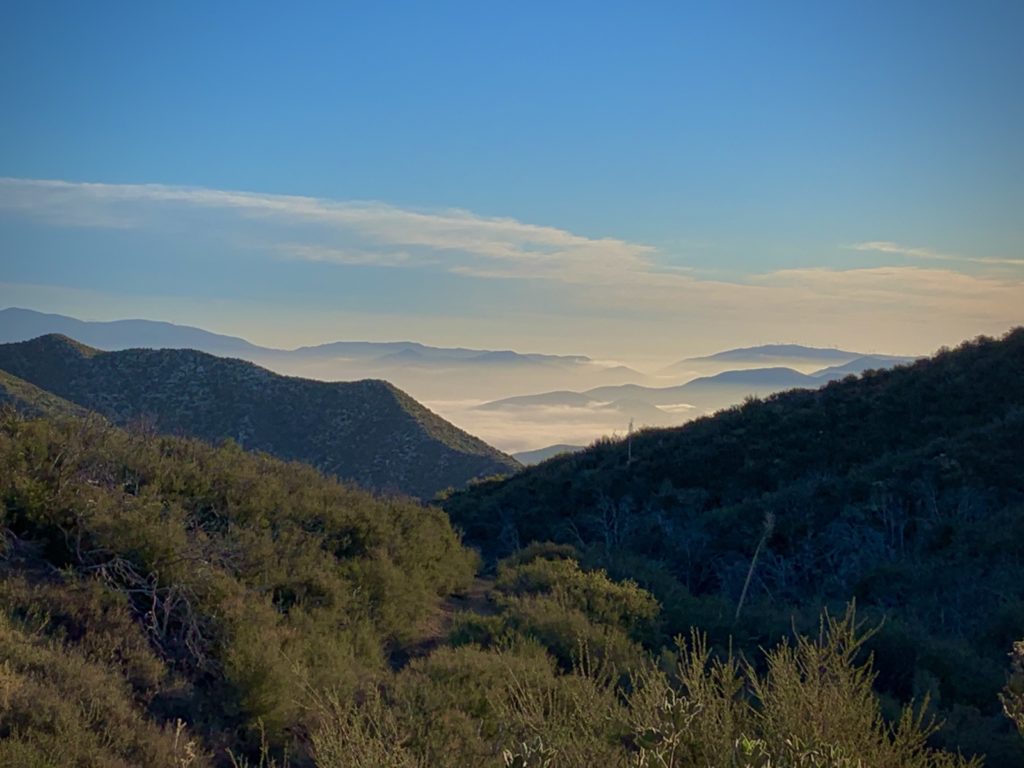 I started the downhill of Indian Canyon, enjoying first the mist hanging in the valley, then clearing skies and a long downhill of 8 miles.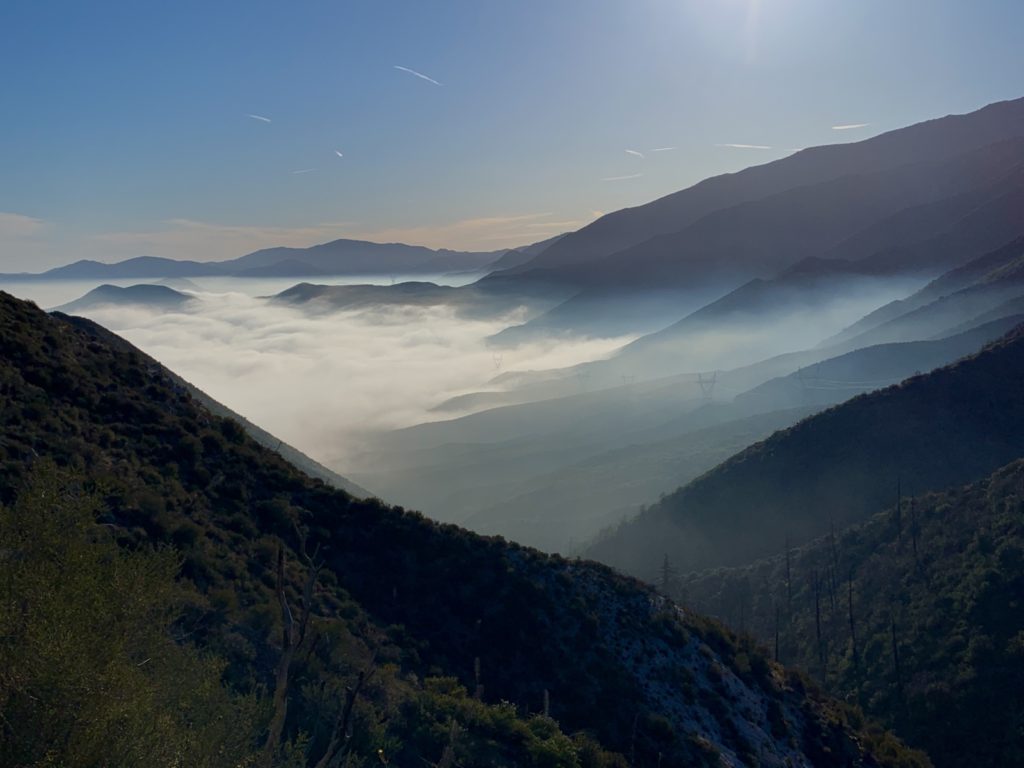 I really enjoyed the changing vistas, and the trail wasn't as overgrown today either.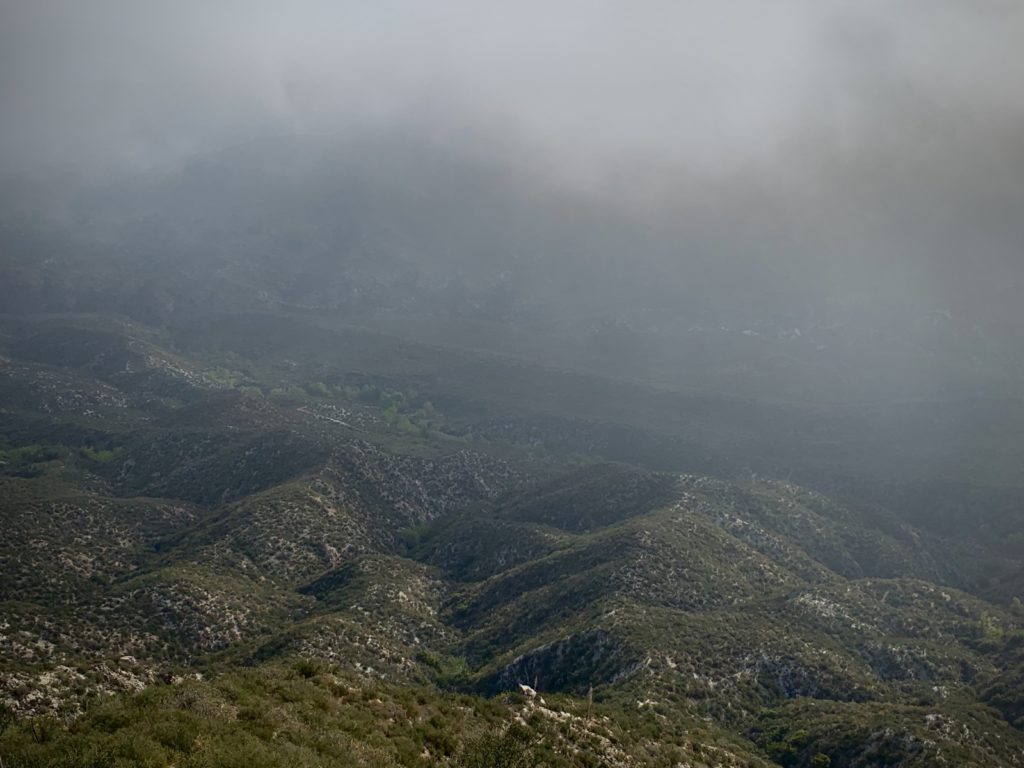 At times, the trail followed a sharp ridge, other times it dropped into little canyons.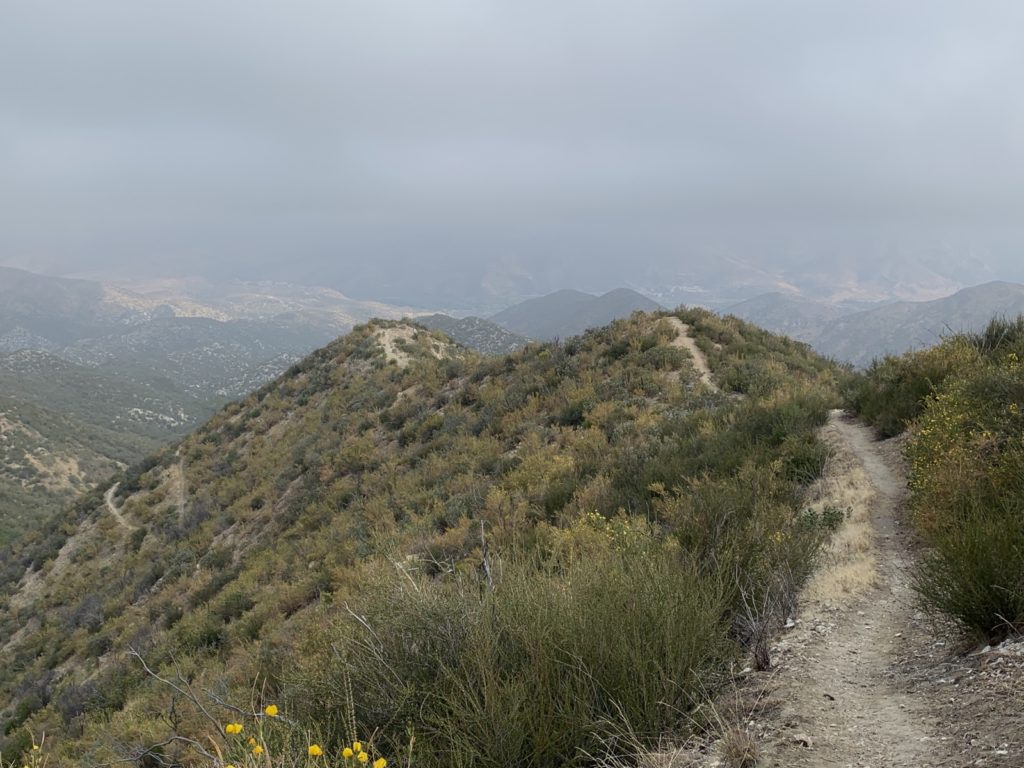 The flowers along the way today were mostly of the yellow kind 😁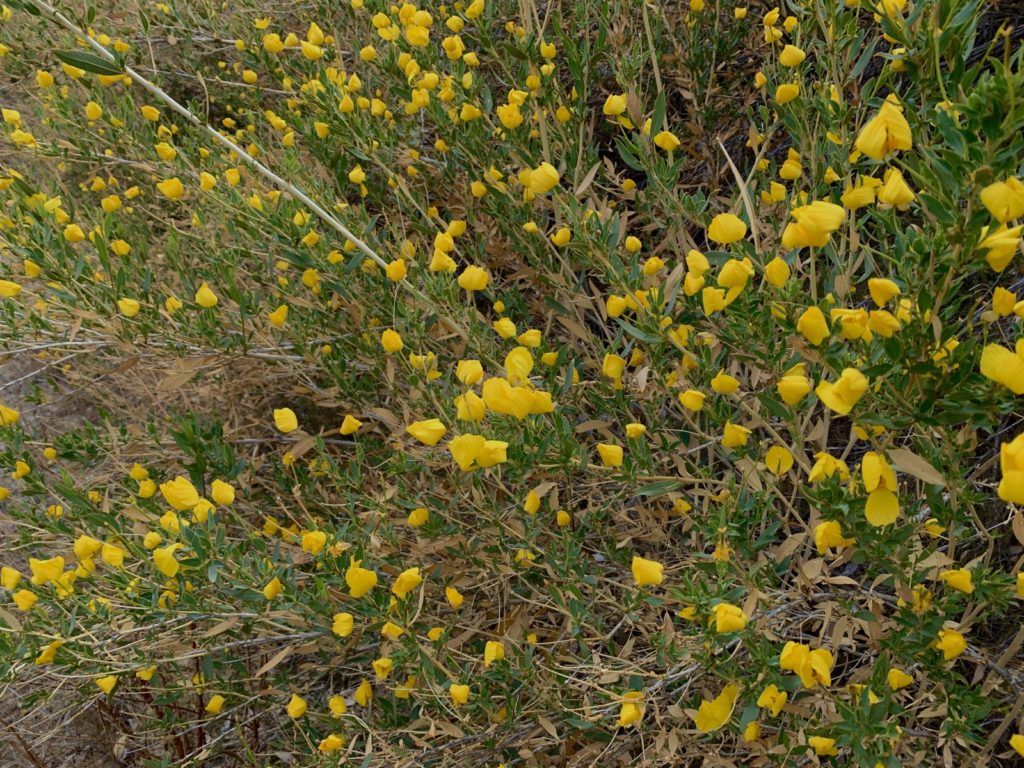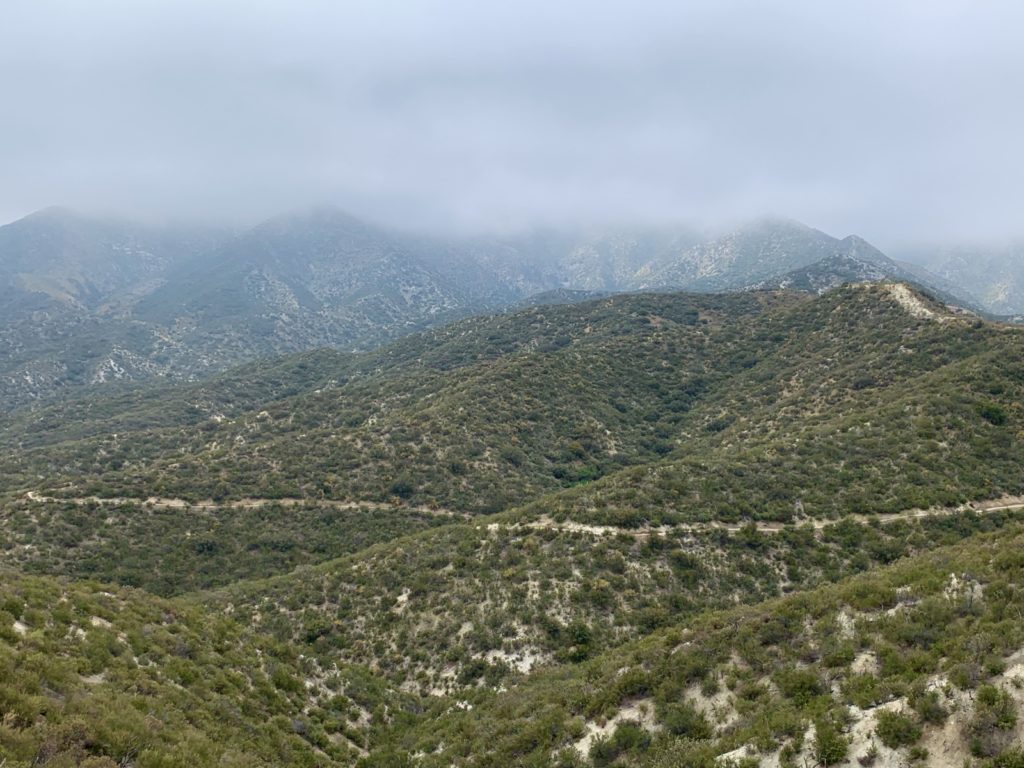 Finally, with the valley fog gone, we could see towards Acton and Soledad Canyon.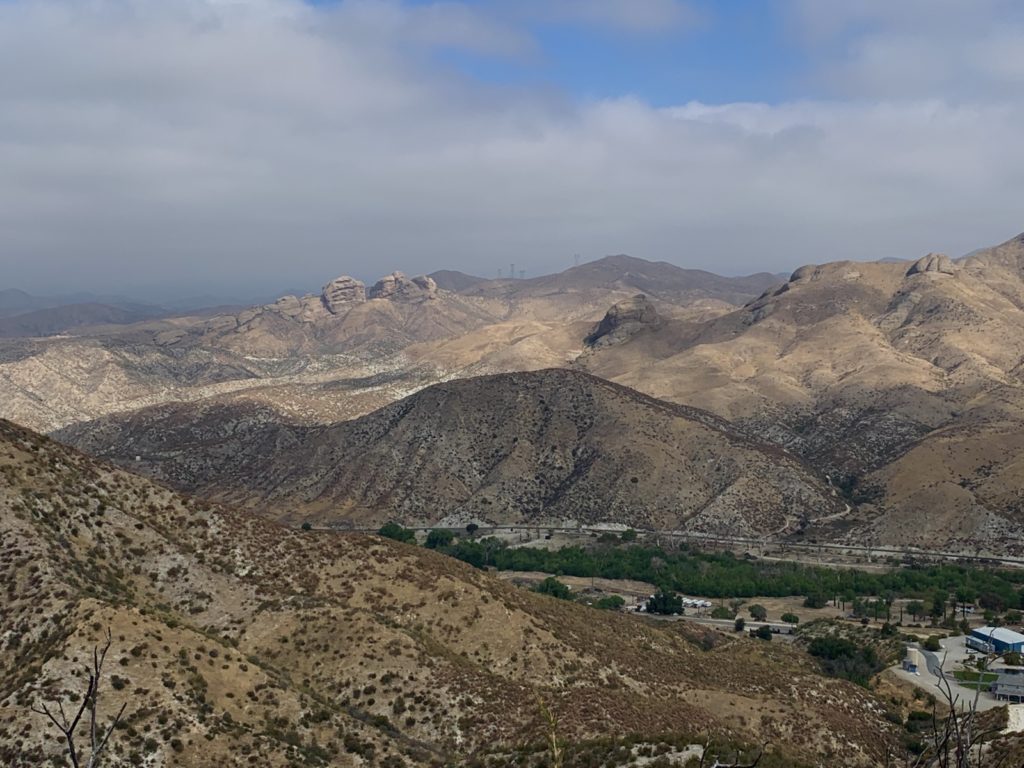 I passed one hiker (Sunsleeves) and ran into a trail runner. He told me he had left trail magic at the trailhead by his truck.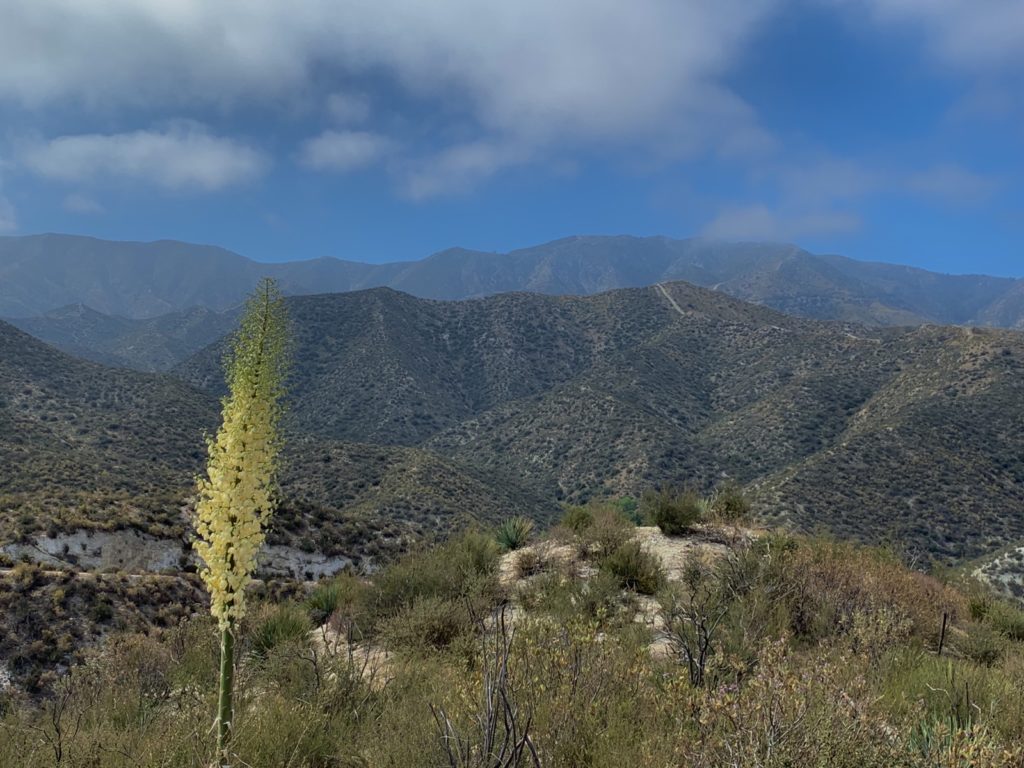 As I got lower, I could see (and hear!) the train going through the Soledad Canyon valley … It also has interesting rock formations!
I made it to the trailhead and had a soda and some food at the trail magic! Thanks trail runner! His sign (if you can read it) actually said he'd be back at 2pm and to wait if anybody needed a ride.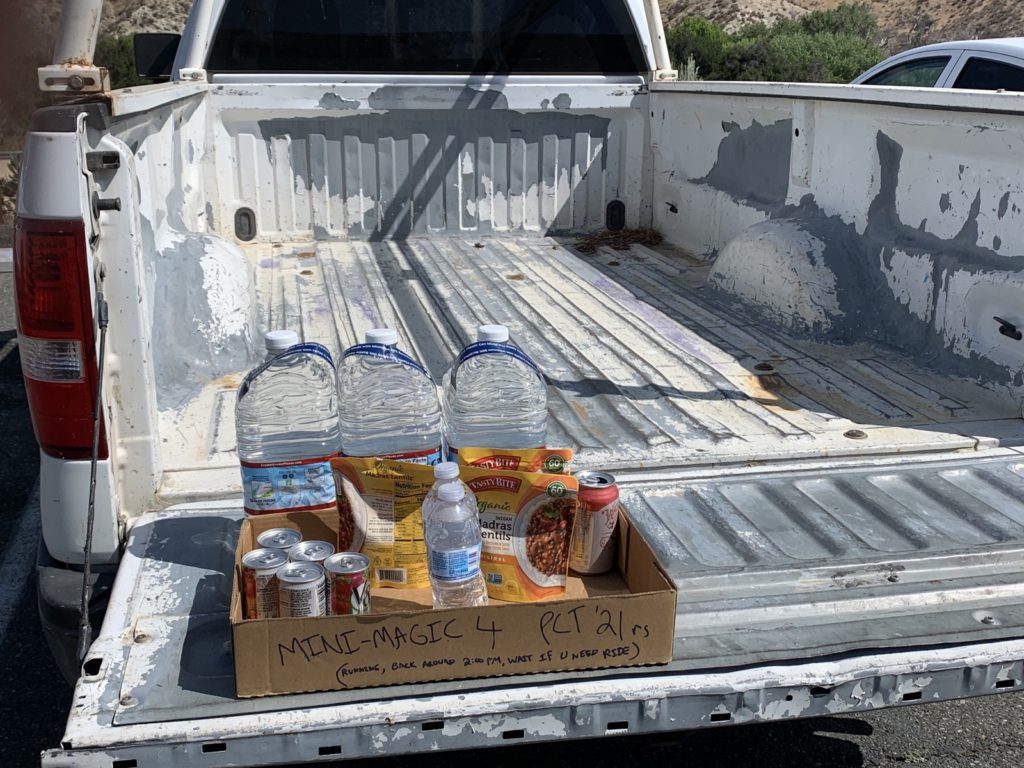 I wasn't sure what I wanted to do … the typical stop in this valley is the Acton KOA, about half a mile from the Indian Canyon trailhead. Many hikers sent boxes there which is now more popular since Hiker Heaven, a previously must-stop in Agua Dulce, closed down. Stick-and-poke who was at the ranger station camp last night pulled in and went to the KOA to retrieve her box. She and Evergreen decided to stay there because they had to organize their food and were ready for a shower.
I walked to the KOA to get some snacks but the little store is really not suitable for any decent resupply. Plus the hiker comments have indicated that the employees there can be very rude to hikers, even charging them $10 if they hung around for more than an hour (eating the food they bought there!!!) so I didn't feel a good vibe. Plus that campground was really just lots of dirt and fifth-wheelers. So I walked back to the trailhead.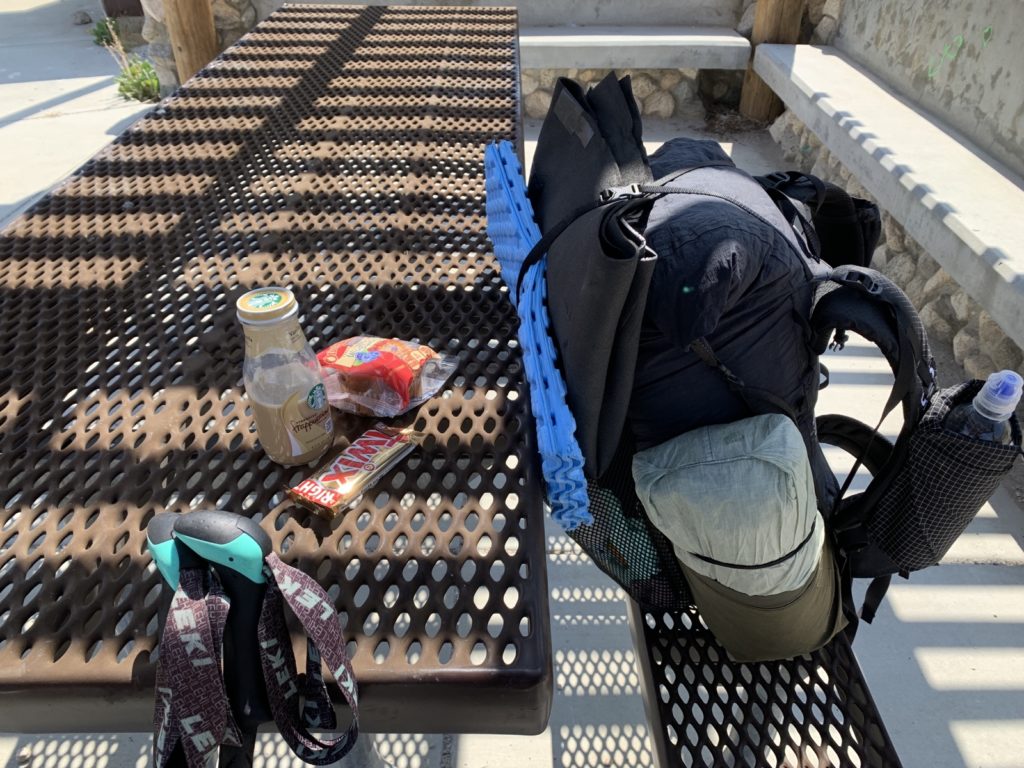 Stonks walked up (as well as Andreas and Splash and Nat and others …) while I was there. He picked up a box of new shoes from the KOA which he didn't need since he had bought shoes in Wrightwood, and he also needed a new sleeping pad and a motel for the night. So he was looking for a ride into Palmdale (next big town to the east) while I decided to try to find a camp spot and possibly food in Agua Dulce. So we started waiting for the runner to return even though we didn't know where he would be heading. I think I waited 90 min or so …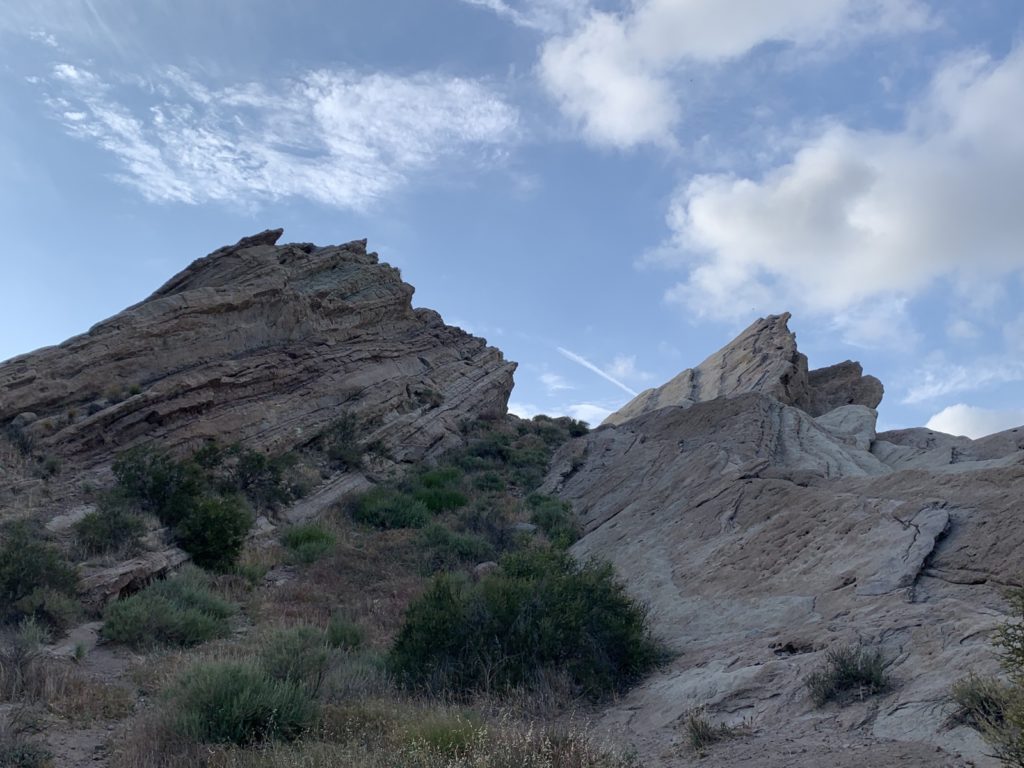 That's when the Subaru magic happened! Remember my theory about Subaru drivers? Yeah … totally true. Angela pulled up to drop her hiking partner after their 9 mile hike. She stopped to ask if we needed anything, and said she was going home to Agua Dulce. Not knowing when the trail runner would actually come back, this was perfect for me! She told Stonks that Santa Clarita to the west would be a better option for shipping the box, a gear store and a motel but he decided to wait for the runner and try to get into Palmdale instead.
How lucky was I! Angela is German and has lived in Agua Dulce for 40 years. The town doesn't have a grocery store or accommodations and not even really a place to camp so I accepted her generous offer to stay at her place. I had a shower; I have clean clothes; I had lunch and dinner; I have two dogs and a parrot to play with; I have a bed and I even had German cookies! I am the luckiest hiker to have run into her 😍 We even went to Vasquez Rocks in the evening.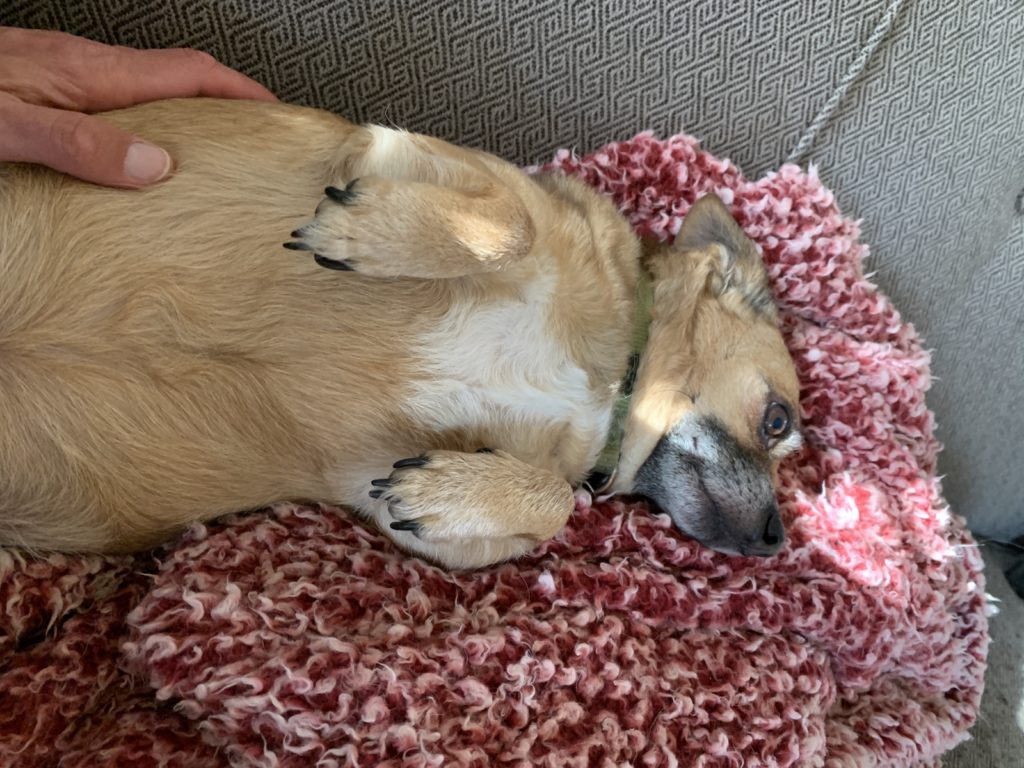 So 8 miles of hiking and a lot of luxury for the rest of the day!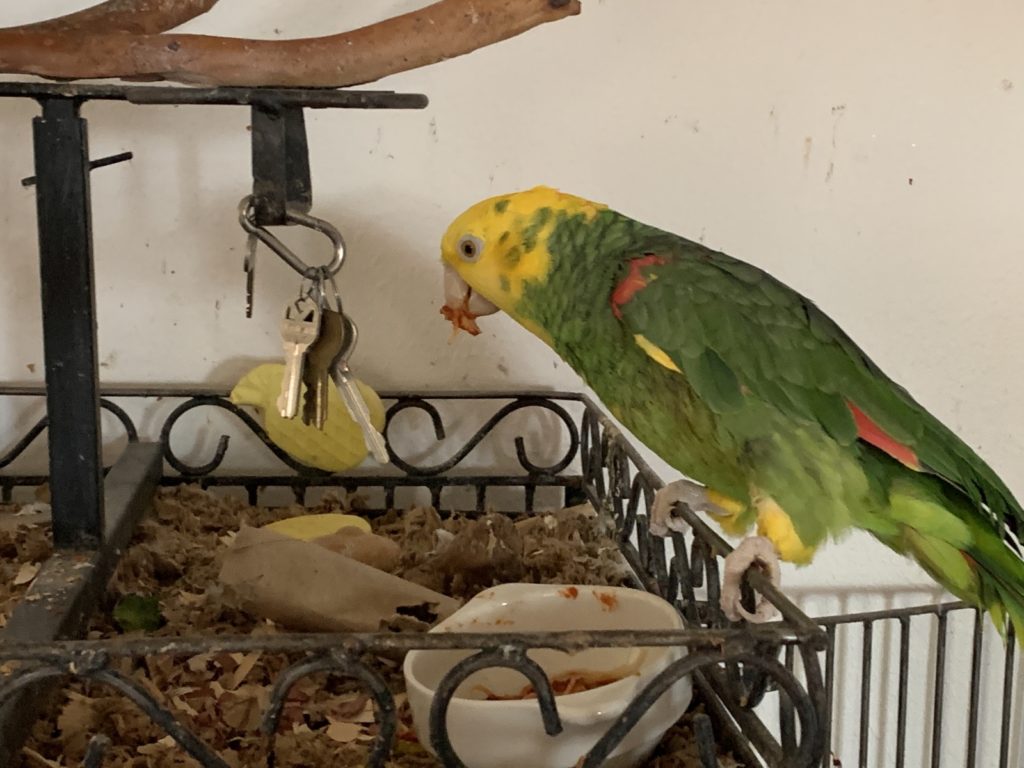 So yeah … the trail provides …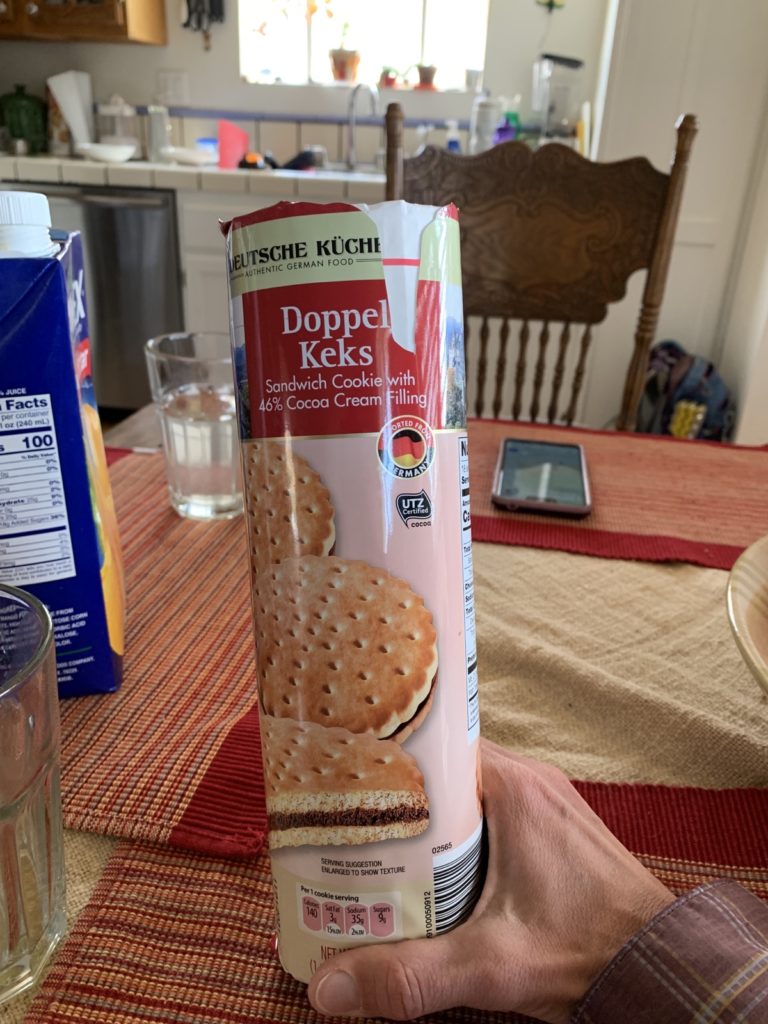 I texted Stonks later and he said the trail runner never showed up (at least until 2:45pm) so Stonks caught a ride with a "sketchy" guy in the "most run-down" car to the trail station and took the train into Palmdale. Should have come with us! Tomorrow will see me back on trail but clean and rested and ready for 60 miles to Hiker Town!