Another beautiful day in the Alpine Lakes Wilderness! We woke up, as usual, to blue skies … the night was surprisingly cold at 3200ft (had my puffy on and closed up the quilt). We started hiking at 7:30am to deal with the big uphill during the cool morning.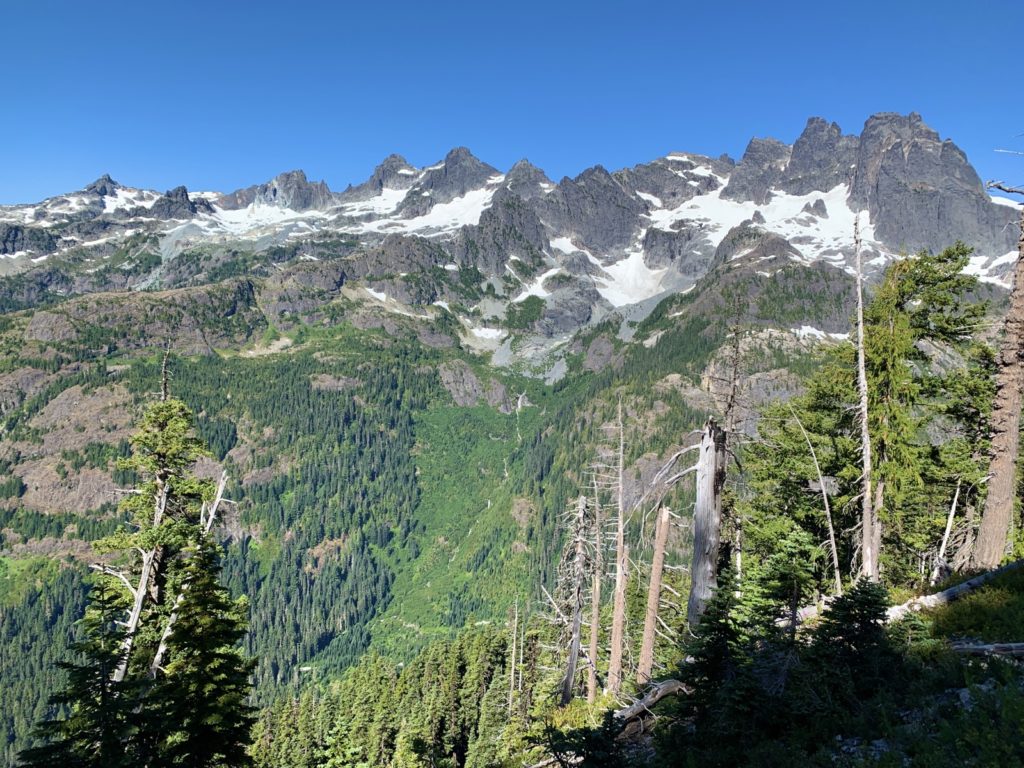 In 6 miles we climbed 2300ft, to improving views the higher we got. We ran into a PCTA trail crew that was out to clear the trail ahead of us (the blowdowns were not bad compared to other sections). On top we enjoyed the view, then took a longer break near a water source to dry our tents.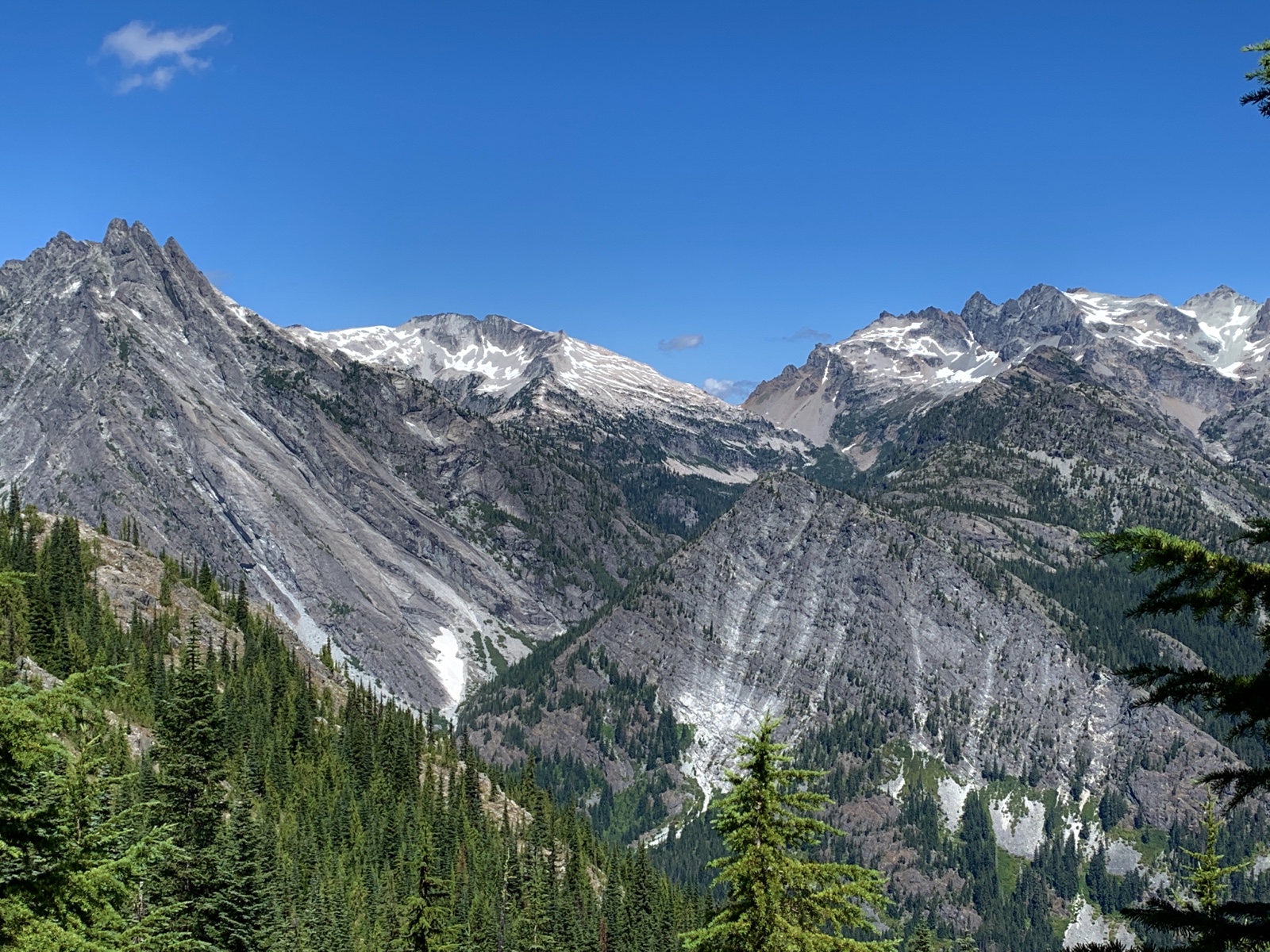 The second half of the day was a big downhill towards Waptus Lake. We could see it from far away but it took hours to actually arrive! The trail was not technical today and we covered 15 miles in good time.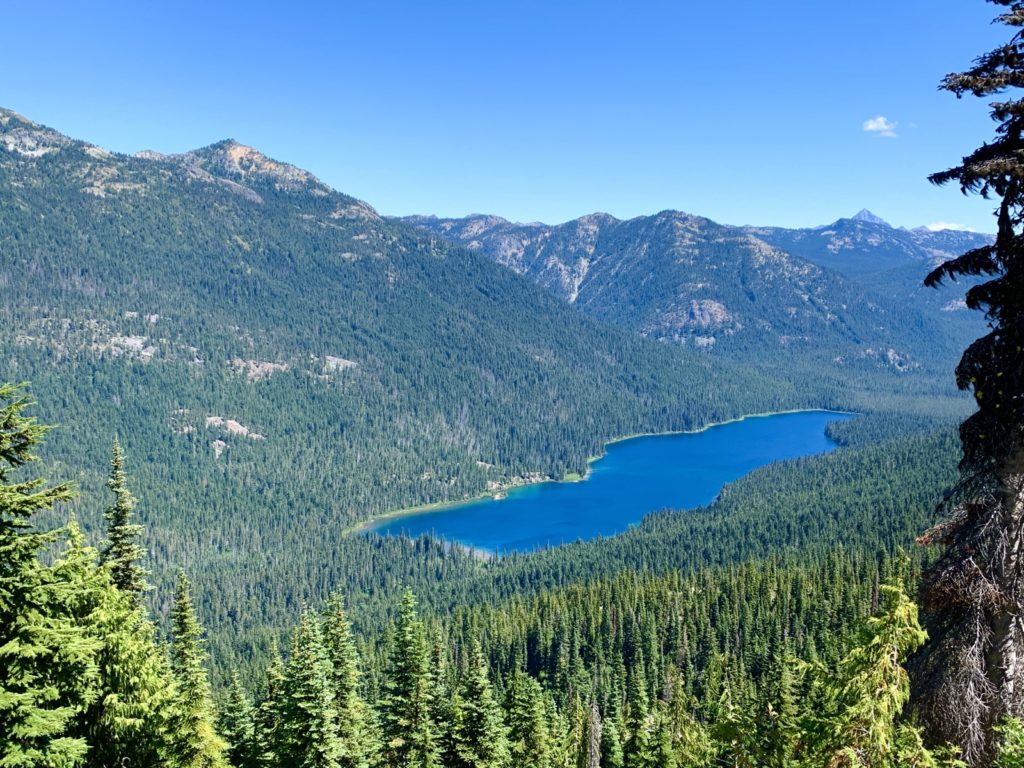 The PCT runs above Waptus Lake but we dropped down to use one of the recommended "lovely" campsites. It's a large beautiful lake, and I finally got my first full swim in! (Not just hikers' showers in creeks).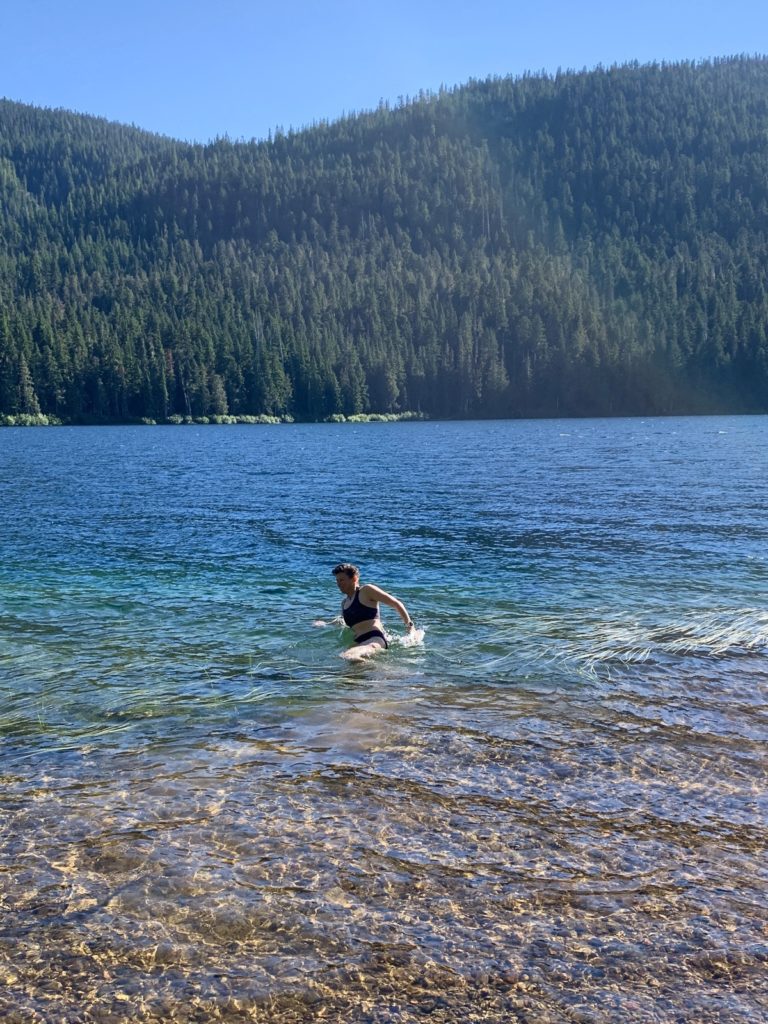 Another first happened today as we were snacking on huckleberries along the trail: our first bear sighting. It's surprising that I haven't seen one so far, being in bear country all along. This black bear was also enjoying the berries and had no interest in us (no pics!).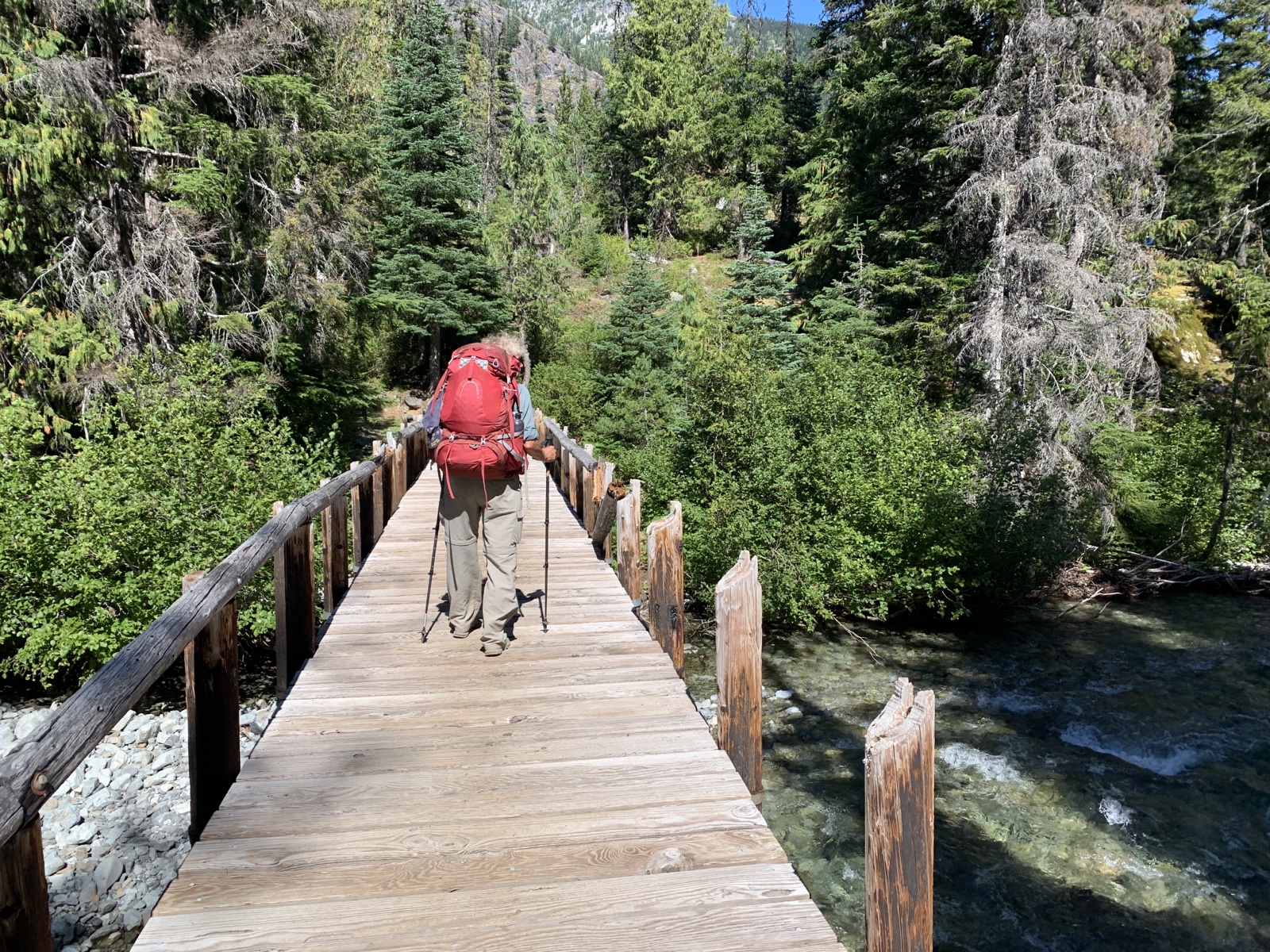 And look at my fabulous sewing job! The mesh on my Topo shoes is finally tearing (they have lasted a good while) and I tried to mend it a bit so that the hole isn't too gaping for rocks and sand to get in.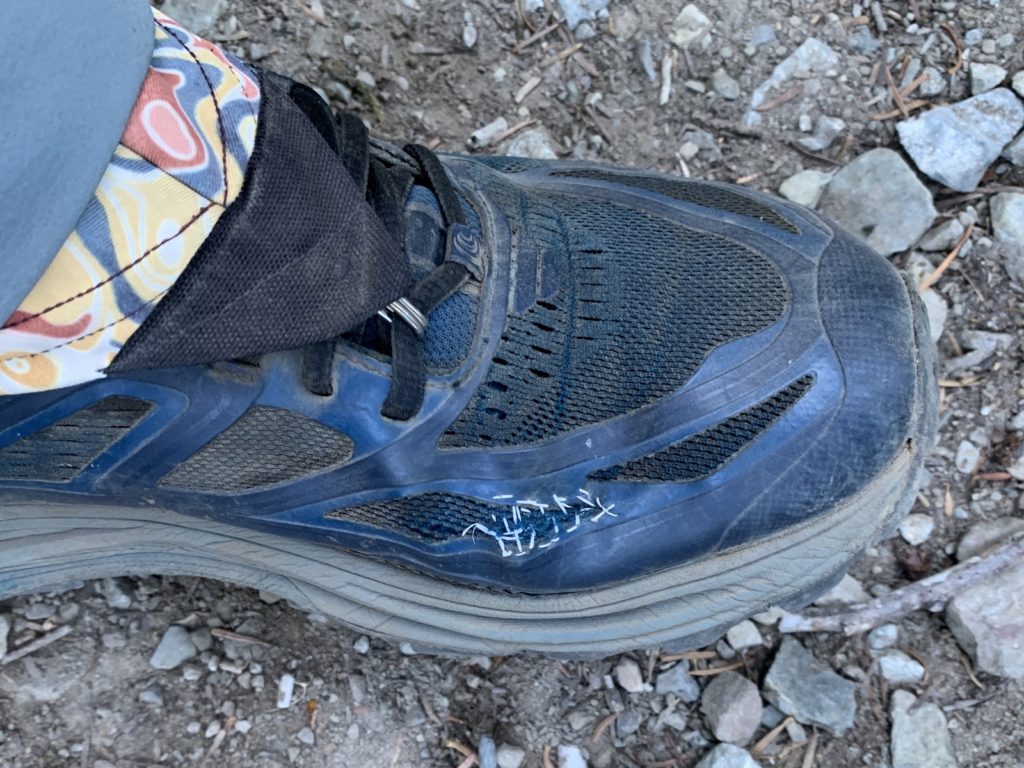 My new shoes are waiting in Leavenworth, and I'm going back to my favourites, the Altra (for now, the Timp – I started with Olympus and usually run in Lone Peak). The Topo shoes were fine but I'm so used to zero drop shoes that the tip was catching on rocks in the beginning (they have 5mm drop). The toe box is as wide as the Altra toe box which is essential for hiking long distances. The tread seems to last longer on the Topo but the Altra are just overall the best shoes.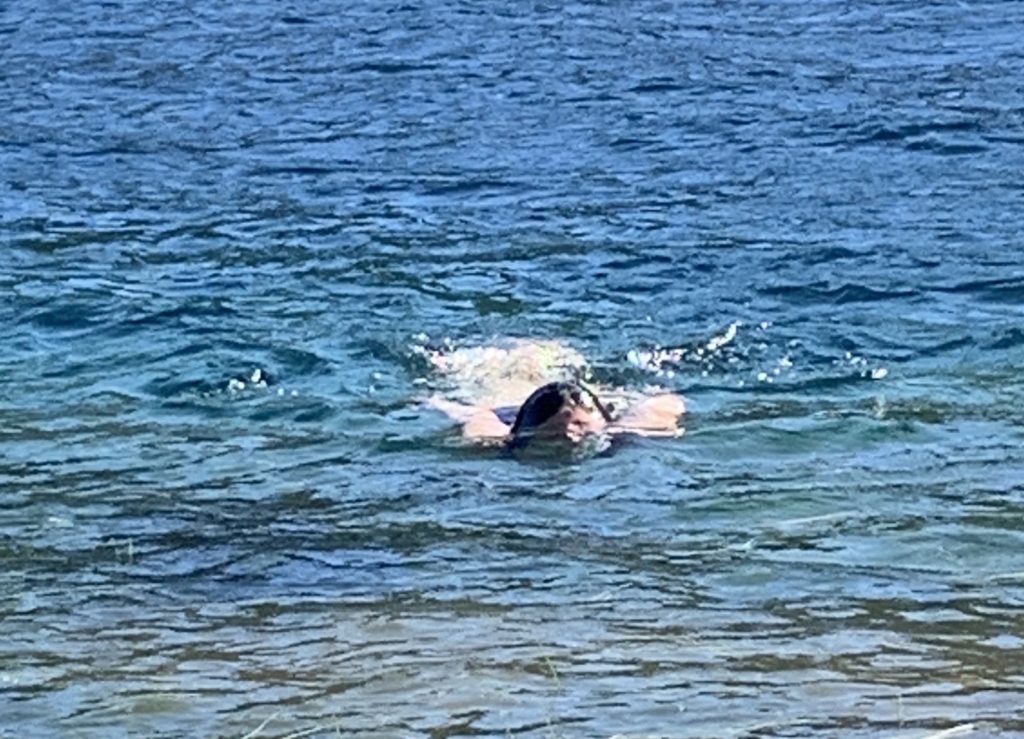 We have 26 miles to go and hope to arrive in Leavenworth Wednesday evening. Thursday will be a zero, then the last section to Stehekin and the border!
Also, lots of fighter jet traffic in the last view days over these amazing landscapes. I'm not a fan … in my naive vision of the world we wouldn't have jets or jets training or military or wars! 🤔