Torn from the warm and dry hotel room and now trying to stay warm in my tent inside the sleeping bag with my Nalgene bottle filled with hot tea. What a contrast!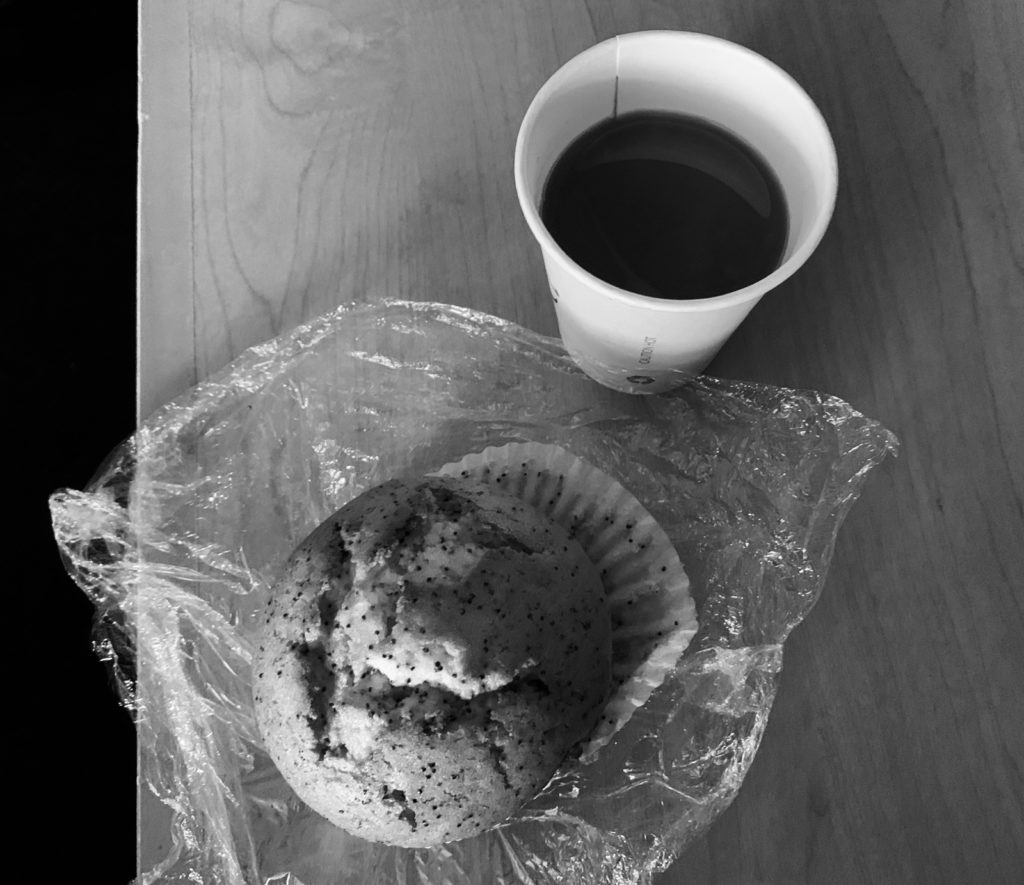 After breakfast and second breakfast we left the Summit Inn at noon. A last scan of the hiker box scored a good vegetarian noodle meal (and yesterday I found trail mix and cookies). In case you are not familiar with it, a hiker box is an actual box that is provided at popular hiker destinations such as resupply points, hostels, hotels or post offices. When hikers prepare for the next leg and either shop or receive their resupply box, they often have extra food or gear. To not waste anything that others might need or want, this gets left in the hiker box for other hikers to take. Typical items are oatmeal, dinners, sunscreen, bug spray, half empty gas cans, other medical supplies and wet wipes. Sometimes there are foam pads, clothing items or cooking gear.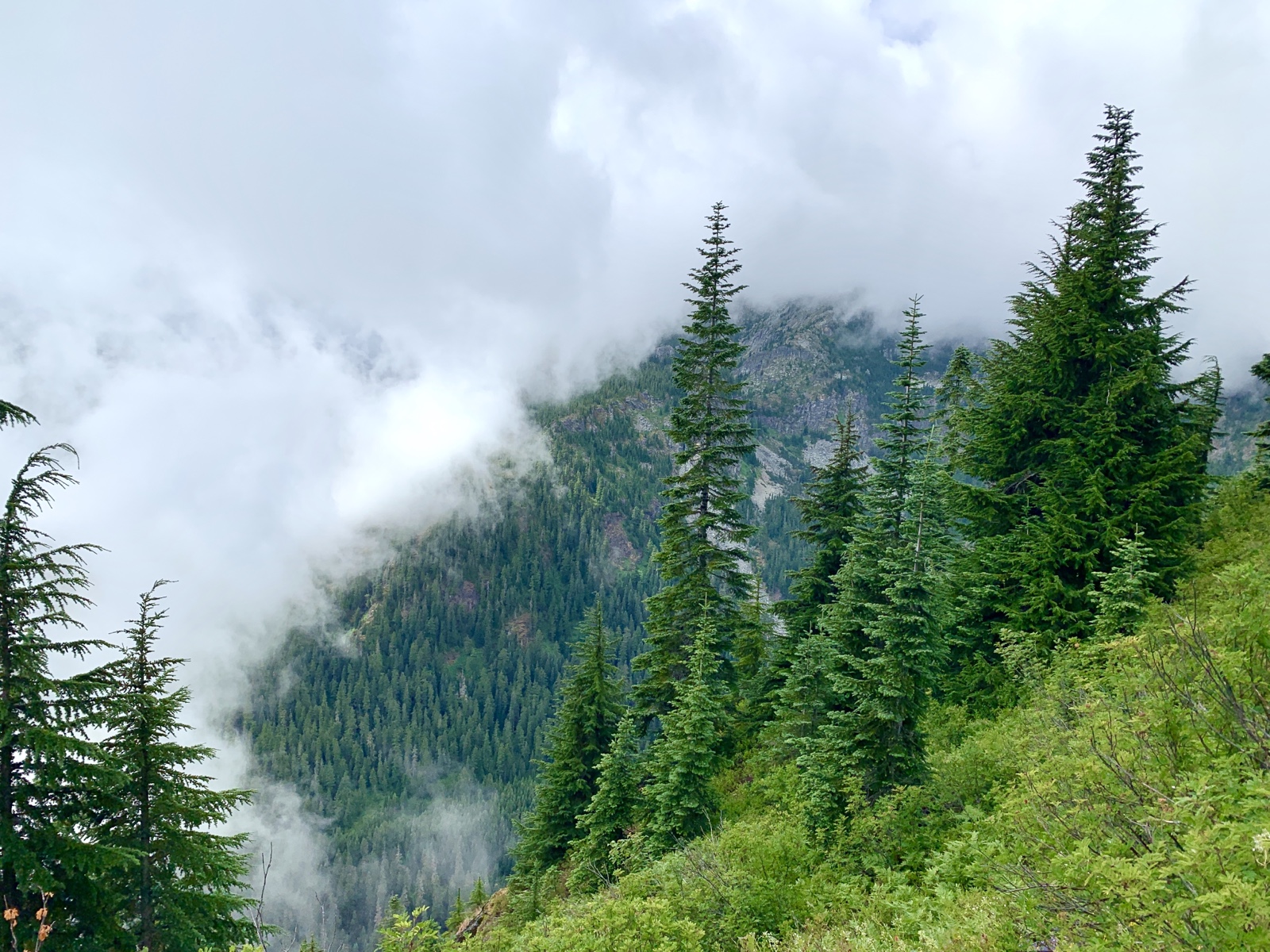 At the gas station we ran into Blue Lake (our name for him, met him at Green Lake just out of Trout Lake). He was trying to dry his phone that had stopped working due to moisture. Too bad we had already checked out and no access to a hair dryer anymore!
We started the climb from Snoqualmie Pass just as it started raining again. Washington is honouring it's reputation: If it says 30% chance of rain until 9am, it means it rains for sure until 3pm! The whole 6 miles of uphill were misty and wet, with rocks and roots to add to the fun.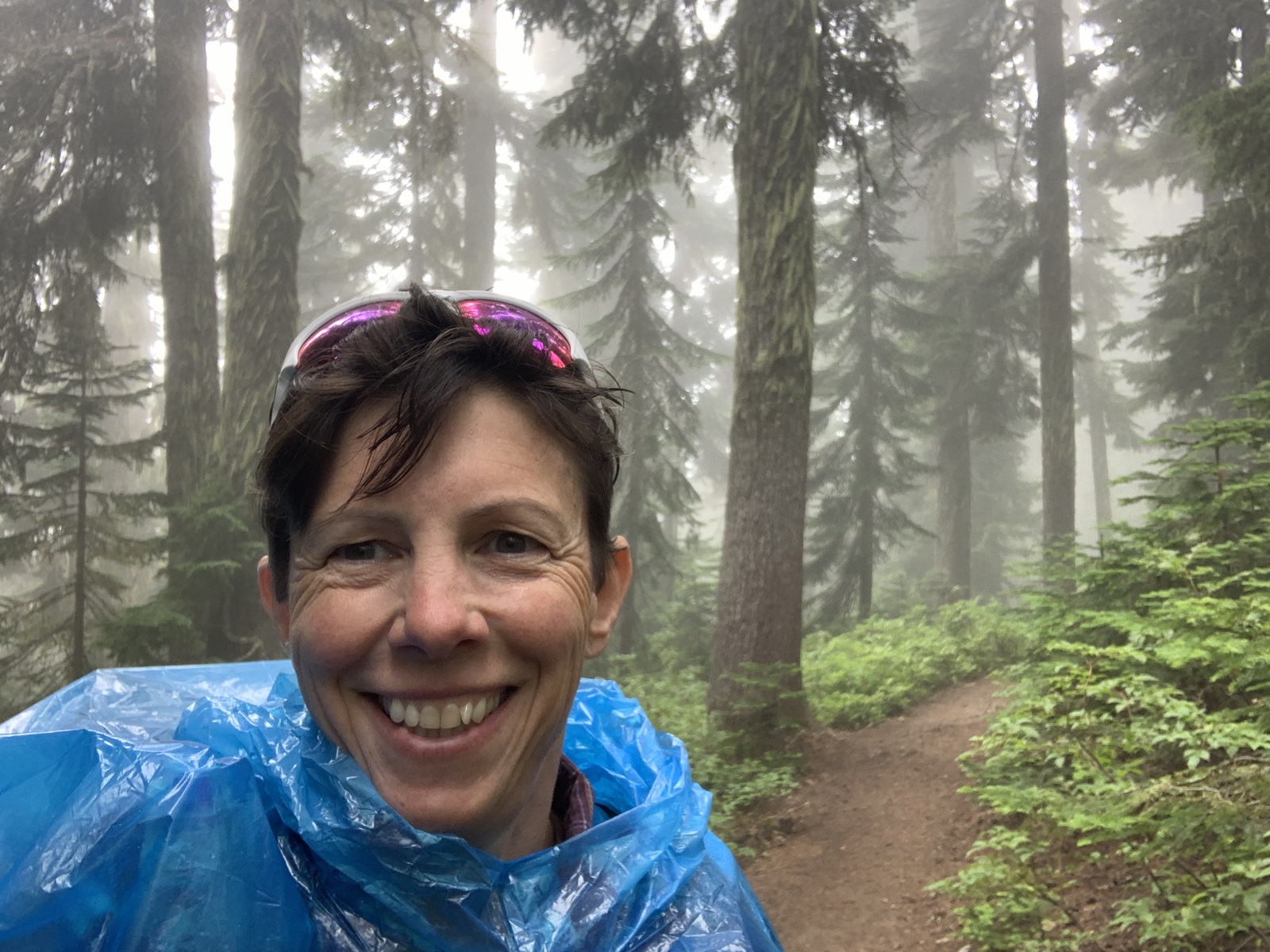 Worst, however, were the hundreds of day hikers and trail runners, despite the weather. The parking lot at the bottom was full, and every 30-60 sec on trail it was mask on, step off and let pass or pass yourself. On this narrow technical trail it was very annoying and time consuming.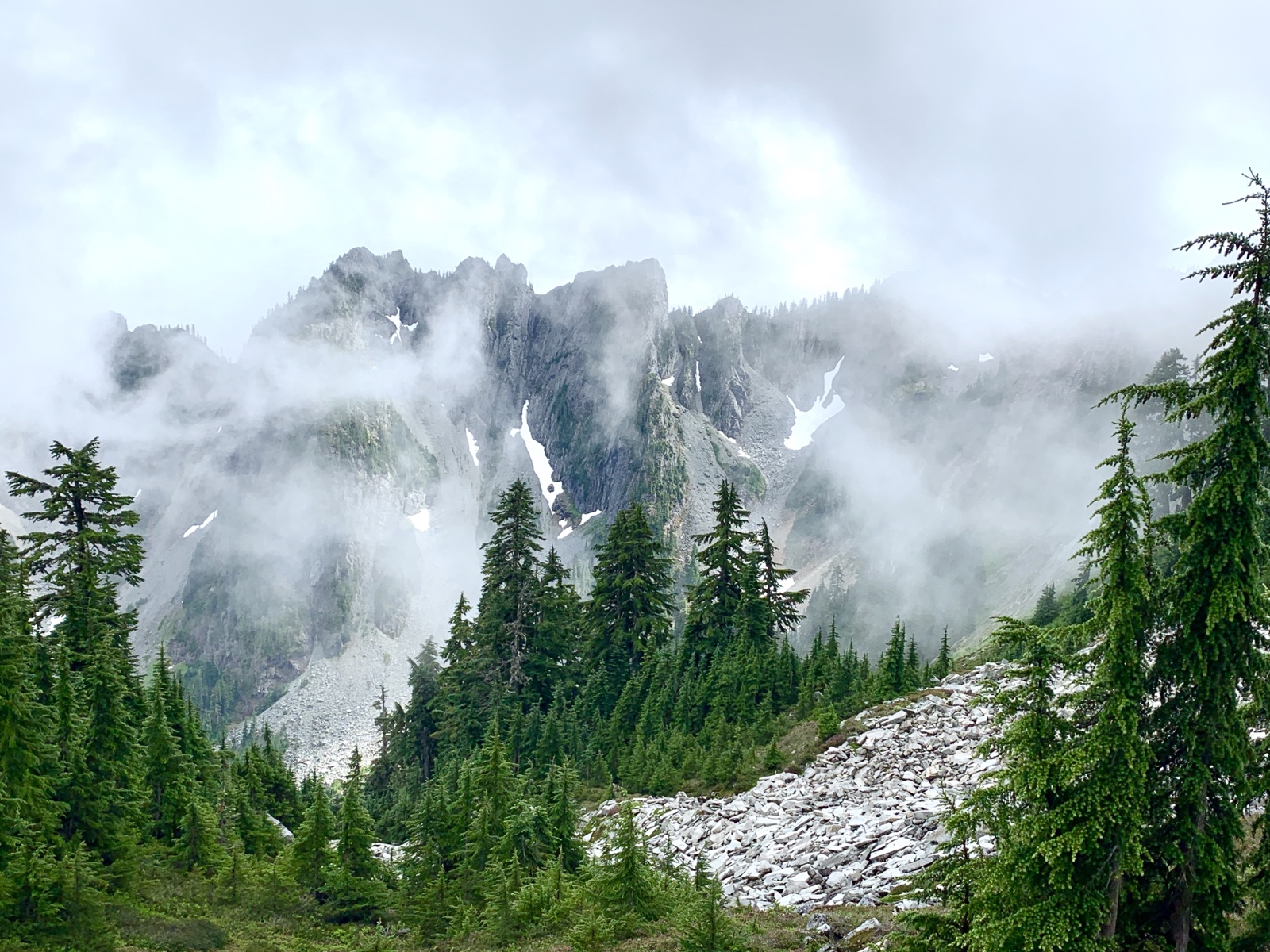 To be honest, I don't think the major trail associations such as the PCTA are doing the right thing by recommending day hikes over thru hikes. Away from the day use areas we hardly meet any people, are not close to sick people, and we only need a store or post office every 6-7 days for food. Somebody living in a city has much more exposure in stores and during other activities. And the day hiking areas are so crowded. Anyway, just my thoughts.
Finally we arrived at the famous Kendall Katwalk that everybody talks about. But we weren't even sure we had passed it, so underwhelming was it 🙂 Apparently it was blasted into the rock but it was definitely not as special or narrow as I had anticipated.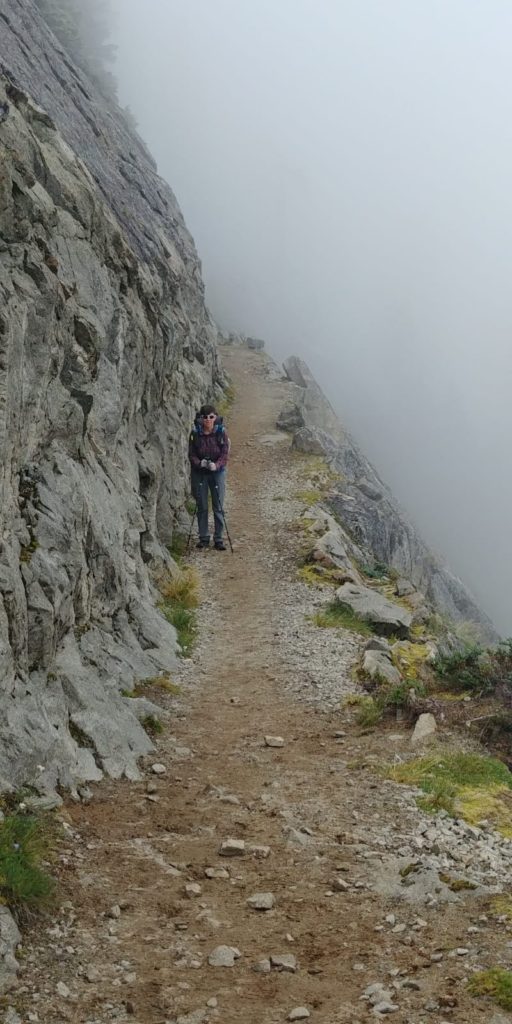 A little while later we arrived at Ridge Lake and Gravel Lake. With so many hikers out and it being Saturday, it was tricky to find a camp spot. We are not used to camp crowds and are looking forward to leave the masses behind.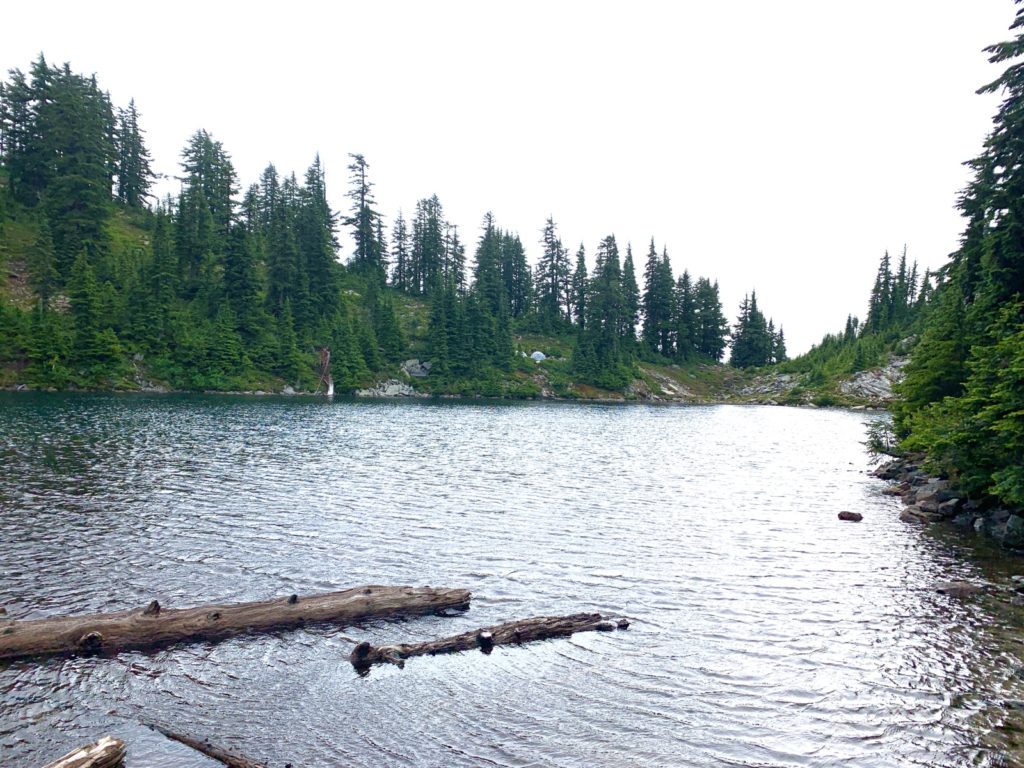 It is still very windy and foggy and quite cold. We are both huddled in our tents and I really hope the weather improves. This is August! This section is all about views so let's hope the fog lifts!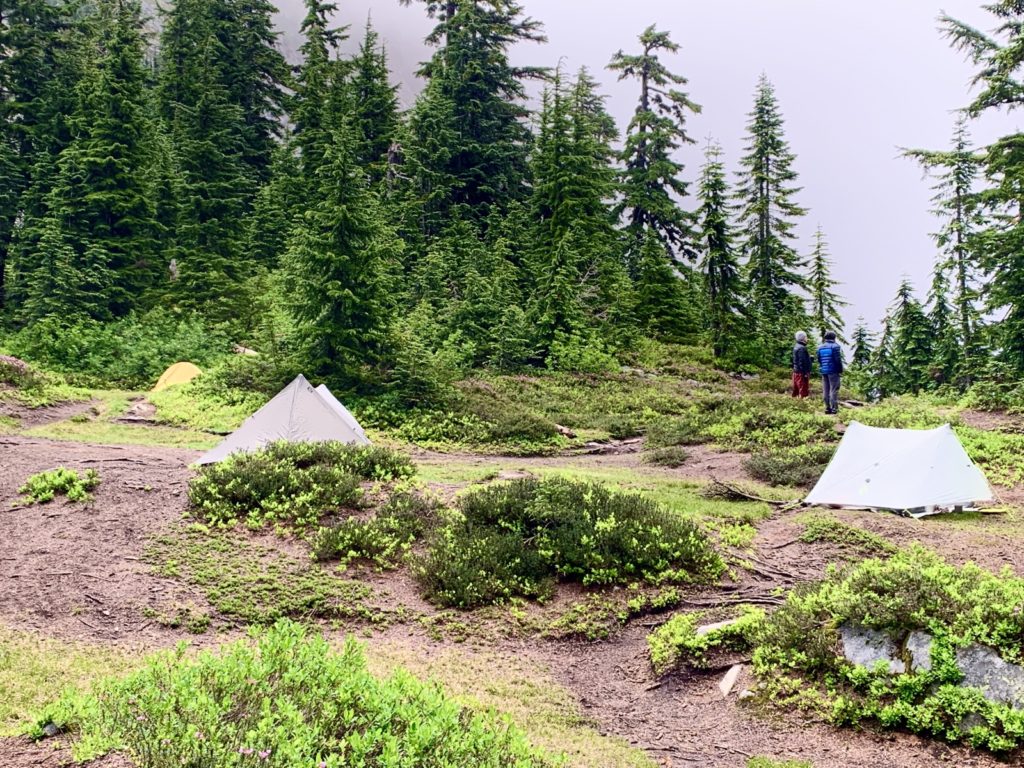 Gear talk – Skip if not interested
The only piece of equipment that didn't fail but I replaced so far was my titanium pot (the water filter and socks needed replacement). I started with the Toaks 1100ml pot because it fits the mid-sized 230g gas canisters and I like having room to stir a meal. However I found it awkward to pack (unless it could fit on the outside of your pack). Inside my pack, it was always in the way and not easily arranged with other gear. So I switched to a 750ml pot which is narrower and only fits the smaller 110g gas canisters but also fits the stove and sponge inside it since it's higher (would have preferred the Toaks version but it wasn't available anywhere). I have found the small gas canisters last long enough to be able to manage resupply (my guess would be 14 days with twice a day use). The pot is big enough for my meals as well. Much happier!
Also, one of the best pieces of equipment is the long handle titanium spoon – don't let anyone talk you into a spork, they are useless for scraping and eating, and there is no backpacking meal you can't eat with a spoon. My spoon is the Toaks, which has the smooth "bowl" (don't buy the one with the coated bowl, it's weird to eat off and hard to clean). Always go for long handle!
My stove is the Soto Amicus. Very popular, since it performs well in wind and is relatively light. I find the igniter handy but it doesn't always work when slightly damp (like sitting outside the tent but covered during the night). I have received replacement igniters but it's a tricky job to install so I'll do that at home. The most efficient and reliable cook system is still the Jetboil which I love … it's just too heavy and bulky to bring along on a long trip (and you can't put the pot on a campfire).
Oh and I did order a set of headphones. Everybody said to use wired ones to avoid having another item that needs charging. But I found the wire is always in the way … with swinging poles, bending and leaning depending on trail etc. And difficult to keep under your shirt and still connecting to the phone while still be able to take the phone out often. So I ordered wireless ones that hang around your neck when not in use, for $36 on Amazon and lasting 24 hours on a charge. Have never gotten to the end of a charge before being back in town. And pods are just not feasible as they might fall out and down a slope, or you have to hold them in your hand when you take them out (meeting people etc) or you lose them in a pocket! Sorry about the long winded post! My hands are cold now!