Our stay at the cabin was well-timed since it rained heavily during the night! So nice to be dry and cozy inside. The father/daughter couple ended up moving their tent inside the cabin (we were in the loft) before going to bed, and were quite happy they did. It was very wet and foggy even in the morning!
The live entertainment at night came in the form of mice that were interested in chewing up a few things in our loft! All our food and backpacks were hanging and we only had a few (non food) items on the floor next to us but they still managed to find something they liked … I still don't know where they found that paper we saw chewed up, we're not missing anything.
Loura was chasing them at night with her flashlight and pointing them out to me, after I slept through their chewing. Besides a few droppings, luckily nothing was damaged. I don't think Loura got a lot of sleep though 🙁
We headed out at 8am, everything was still wet outside. Soon the sun started coming through. We had a few views of ridges but everything between here and Snoqualmie Pass is forest or clearcut. But we could see the peaks in the distance that will make our next section spectacular!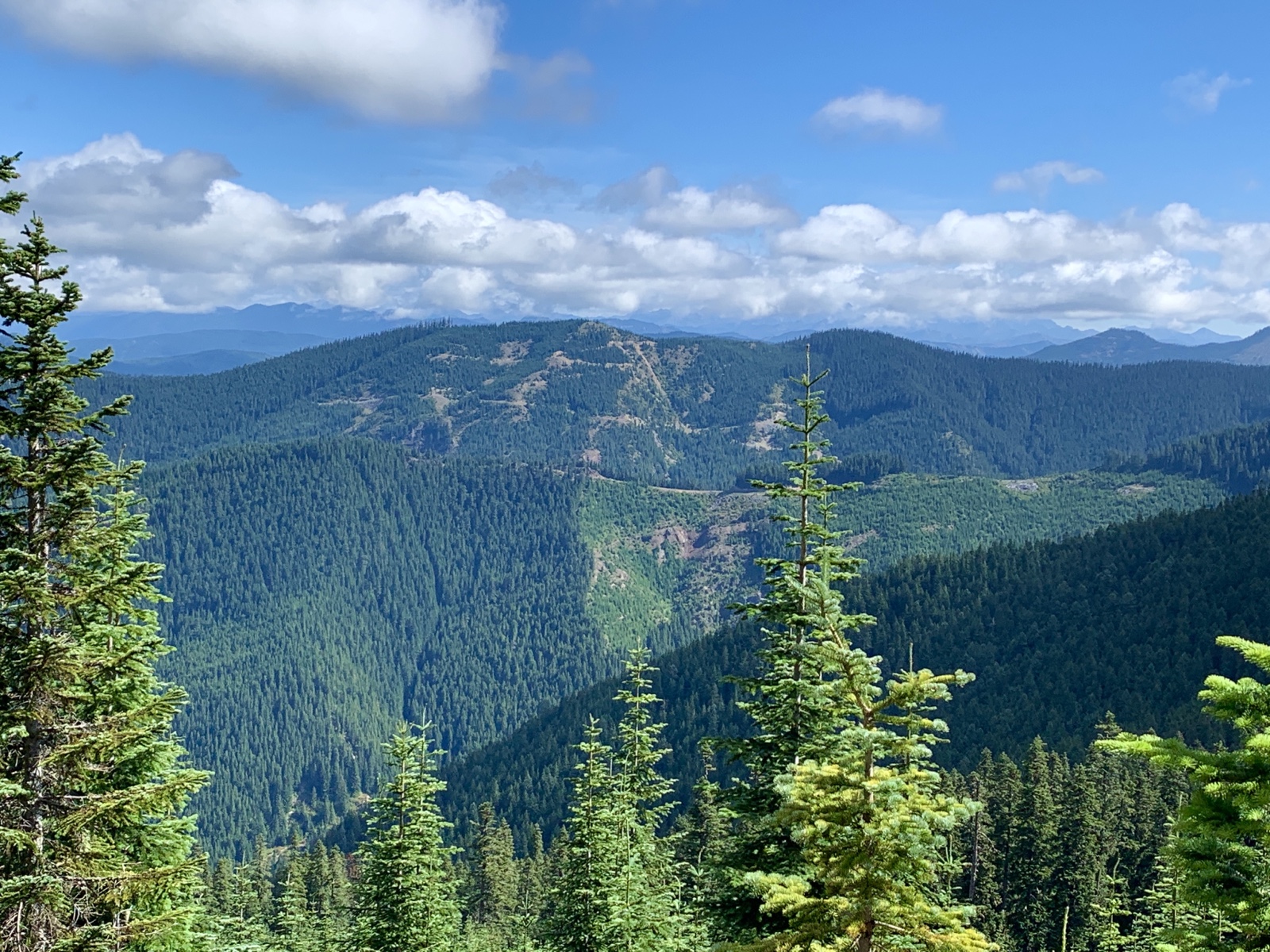 After a few miles we walked on a dirt road and considered a side trip into the valley, possibly finding a village with a coffee shop or other distractions from the somewhat monotonous scenery. There was minimal traffic but one guy pointed out the main road to Lester.
We were hoping to find a ride but besides one car that was "full", we never really saw anyone. That meant we walked many miles downhill until we were actually close to Lester (according to the map). We were actually joking about how small and deserted Lester must be, given the minimal traffic (in other forest areas we have seen people camping in every spot possible). Turns out we weren't that wrong!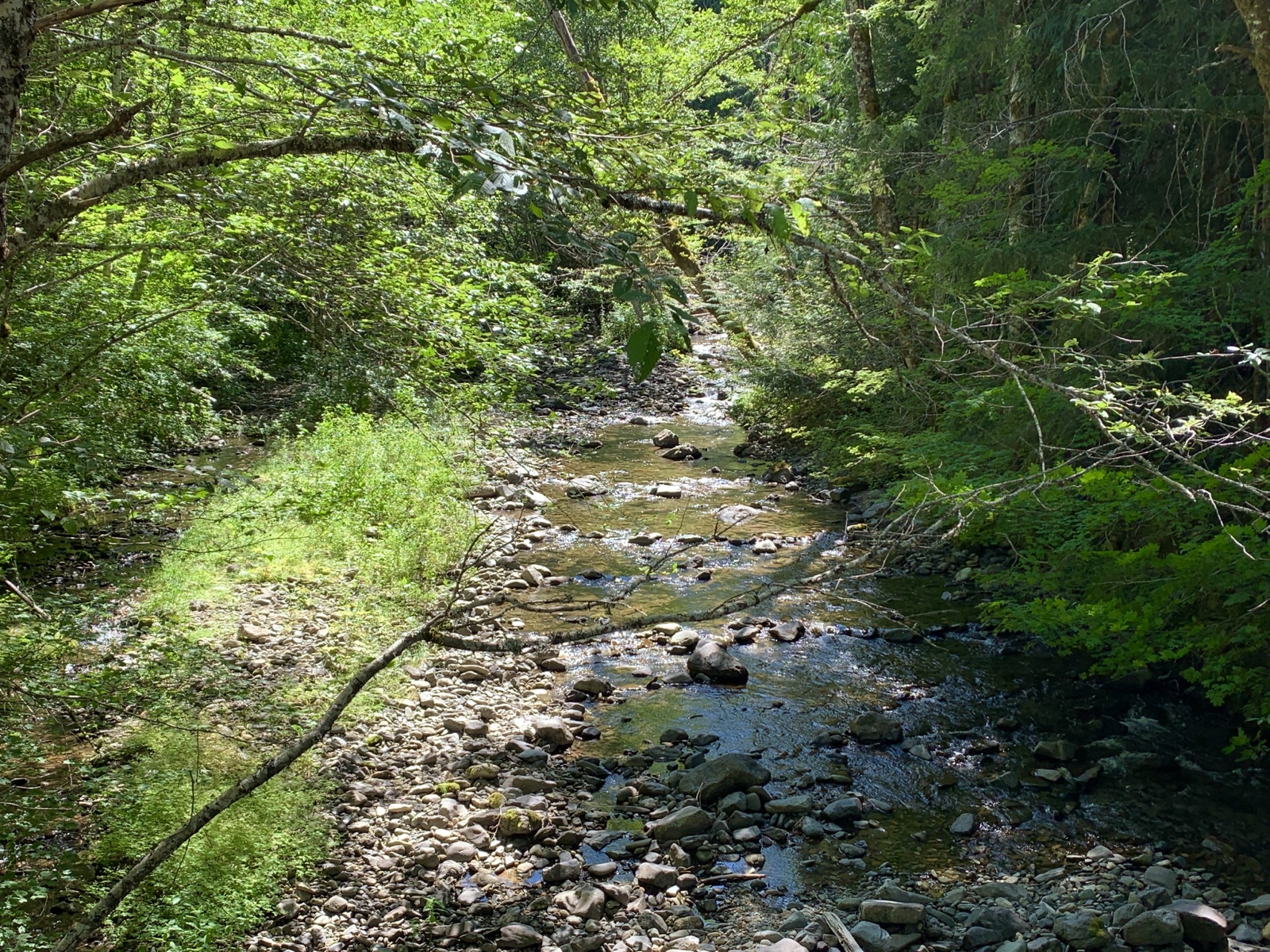 Then our saviours arrived! In a small Jeep, a couple from south of Seattle (we never actually got their names) made room and we squeezed between coolers and watermelons. The guy told us that Lester doesn't actually exist anymore and cannot be driven into, as it is the watershed for Seattle. So much for a coffee shop! It also used to be a railroad town but that is long gone too.
They were going east, taking another dirt road back over the crest we just walked down from. We thought we would get out where the PCT crosses this road at Stampede Pass before the road drops down to I-90 but the couple then offered to drive us to Snoqualmie Pass! Happy to cut miles from walking through clearcuts and getting to the exciting section north of Snoqualmie Pass quicker, we accepted.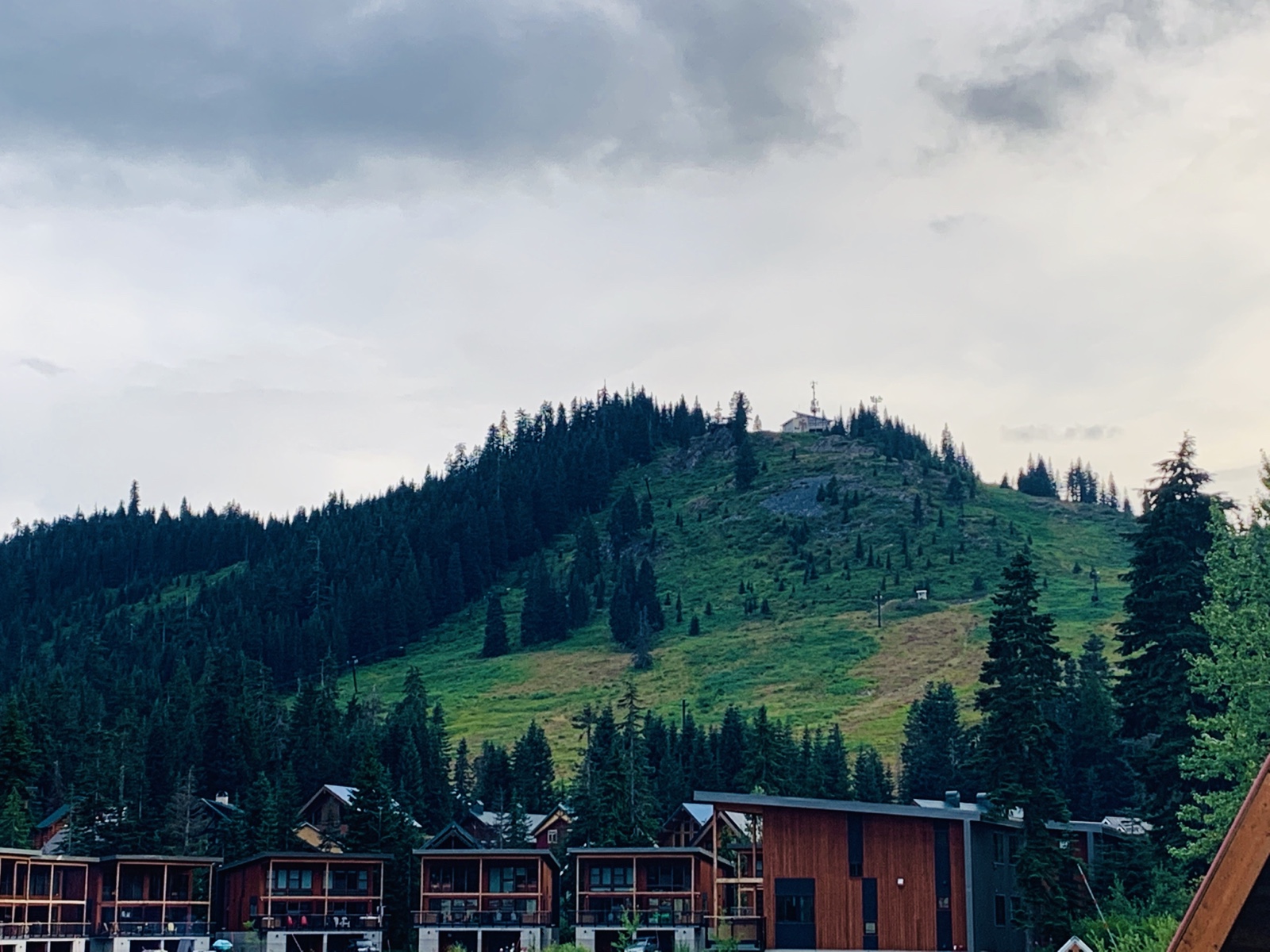 This saw us arriving at the Summit Inn around 4pm, checking in and getting excited for a shower, and scanning the small grocery store for resupply foods. We still have food left and only need to supplement for the next 71 miles to Stevens Pass. The restaurant has pancakes in the morning and, no joke, the receptionist (Indian with lots of travels through Asia) gave me a foot massage after he had to move us to another room (TV issues).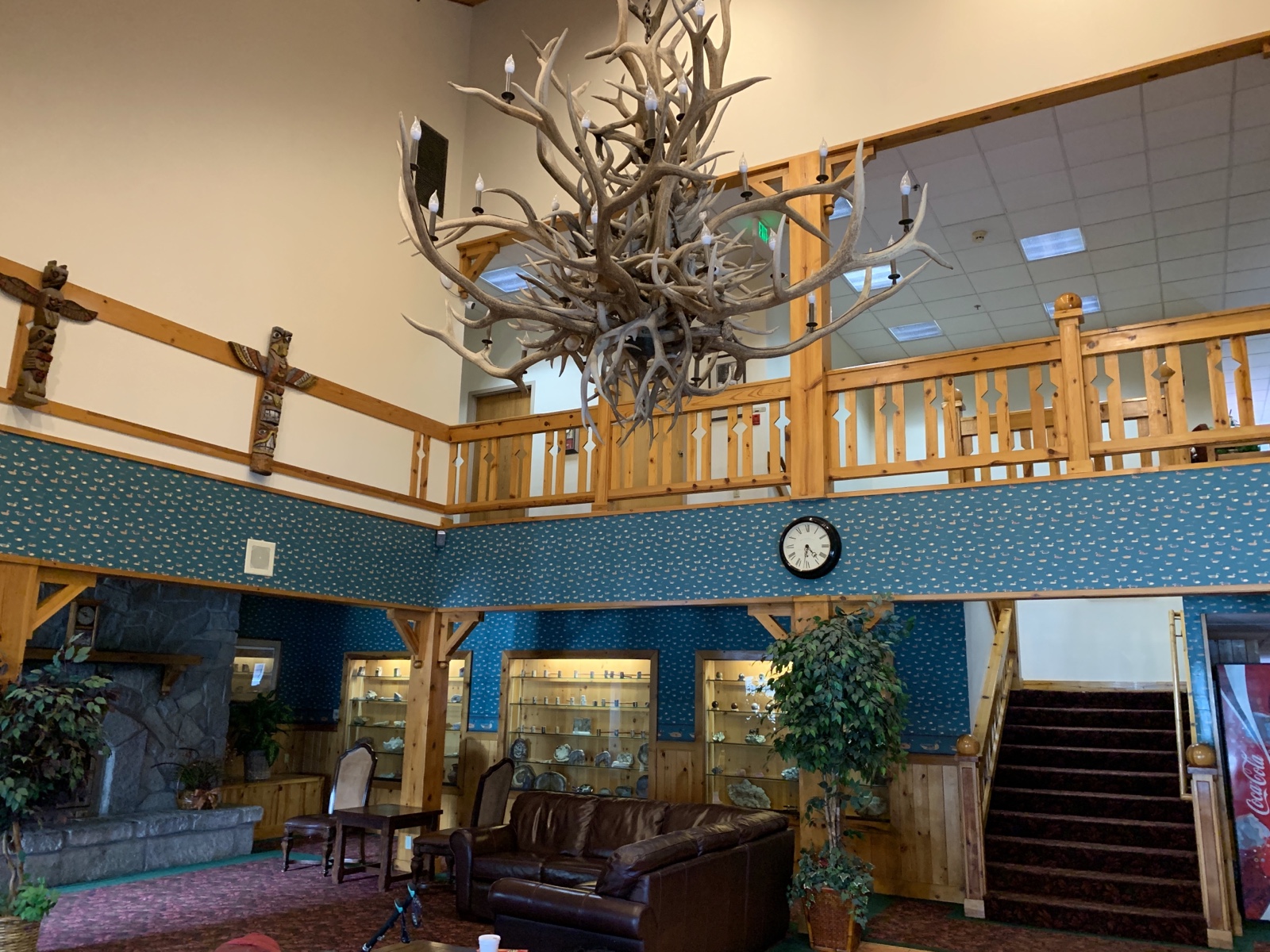 Tomorrow, after a late checkout, we will hit the section to Stevens Pass. We hope to have gained enough miles to have more time to spend in the Alpine Lakes Wilderness.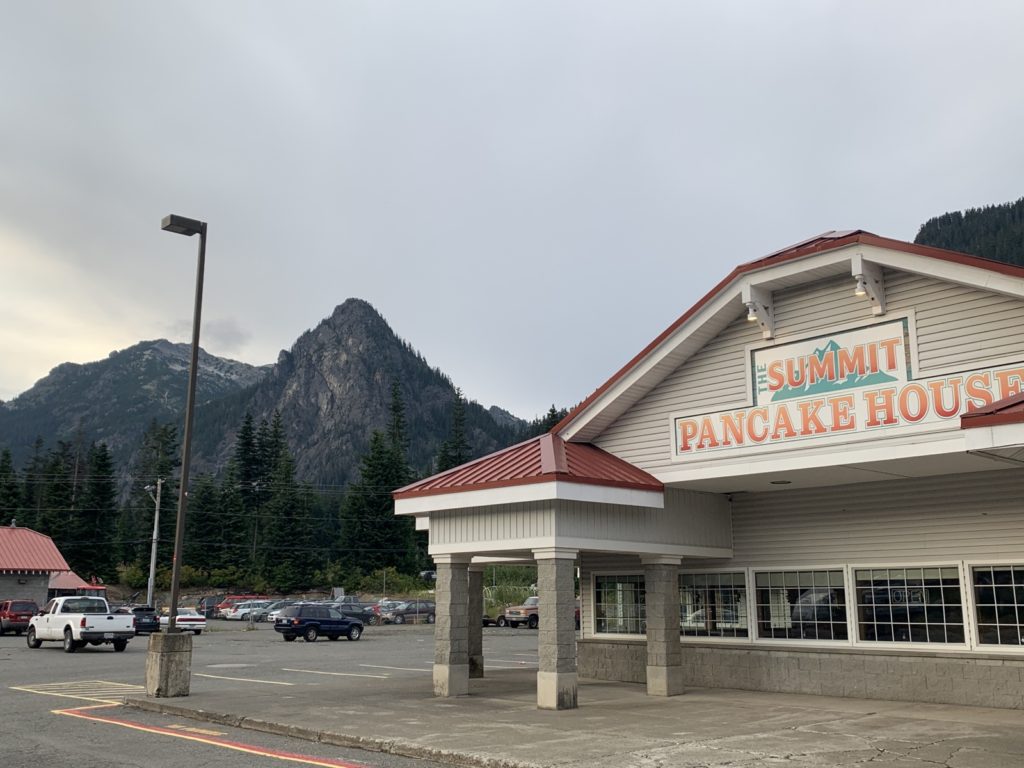 And I saw this today and really liked it.