This might sound familiar: A challenging day! Mentally this was definitely second in line after the desert crossing. I might have even yelled a bit at the wind to stop 🙂 (didn't work!).
In our lovely camp by Landers Meadows Spring, the night was cooler than expected but the wind that was pretty noisy in the tall trees (but did not reach out tents) stopped sometime during the night. With another long day ahead, I was walking by 6:30am, leaving just after Pause. We had about 4-5 pleasant miles in the trees with a nice trail.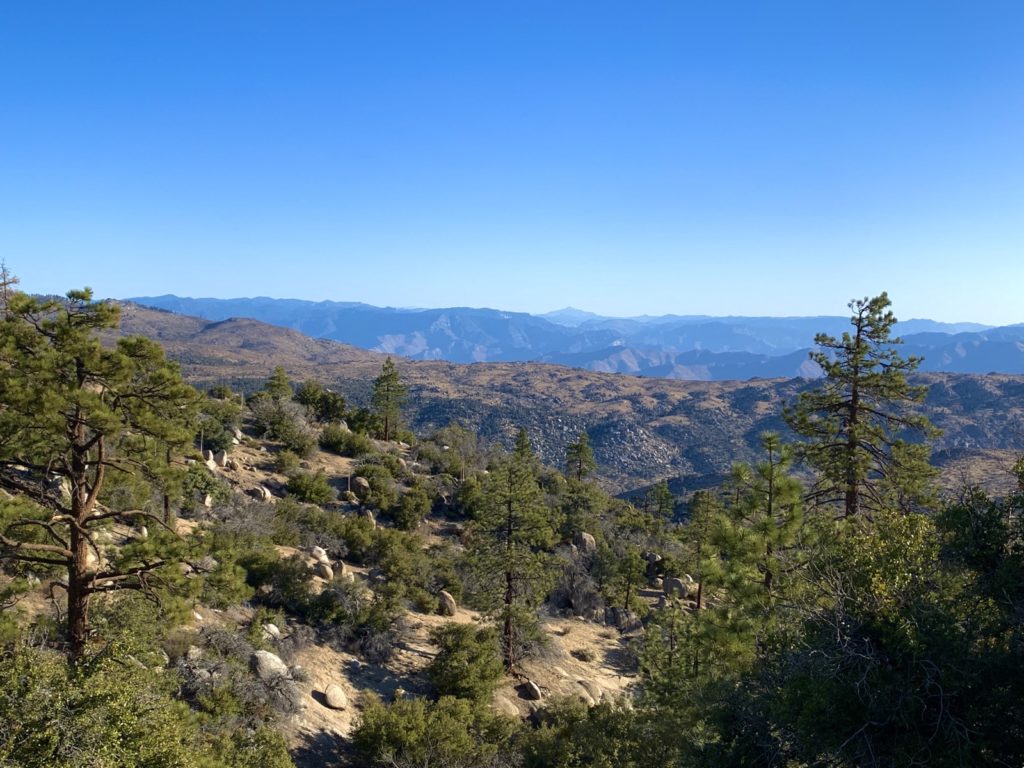 Since the trail crosses a lot of dirt tracks and roads, we often have to step over these gates (others are wooden) that keep the motorized traffic out (the whole PCT is hiking or horse traffic only).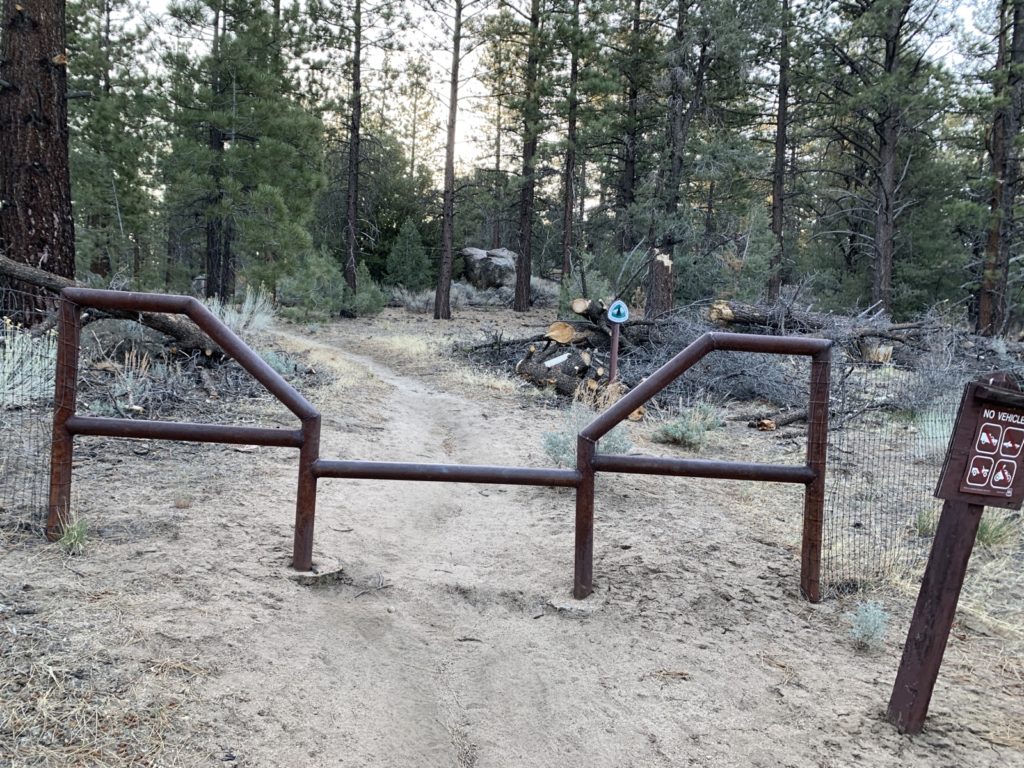 But for the rest of the day, after we left the trees, it was just super windy and super sandy. So windy! I got blown over to the side often, and was staggering and stumbling rather than hiking. Another hiker said later: "You place your trekking pole straight ahead as usual but it ends up two feet to the side from the wind!"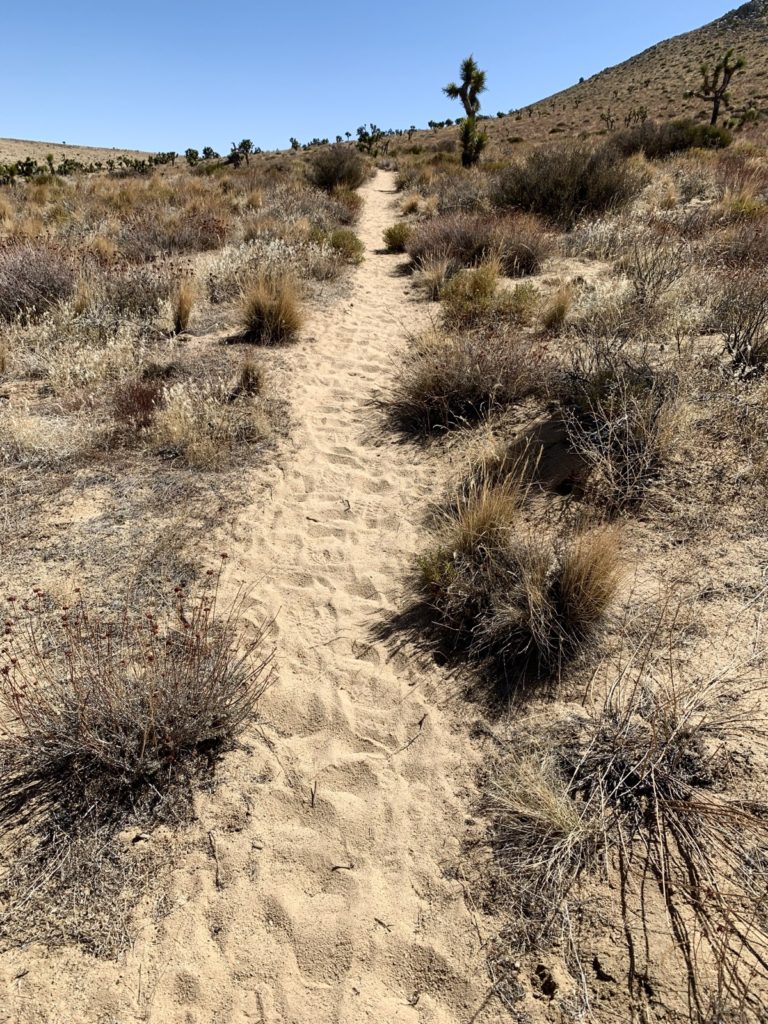 The views went far but it was just a whole lot of nothing. Looking east into the desert and at the hills ahead of you, many of which we climbed. It was really tiring.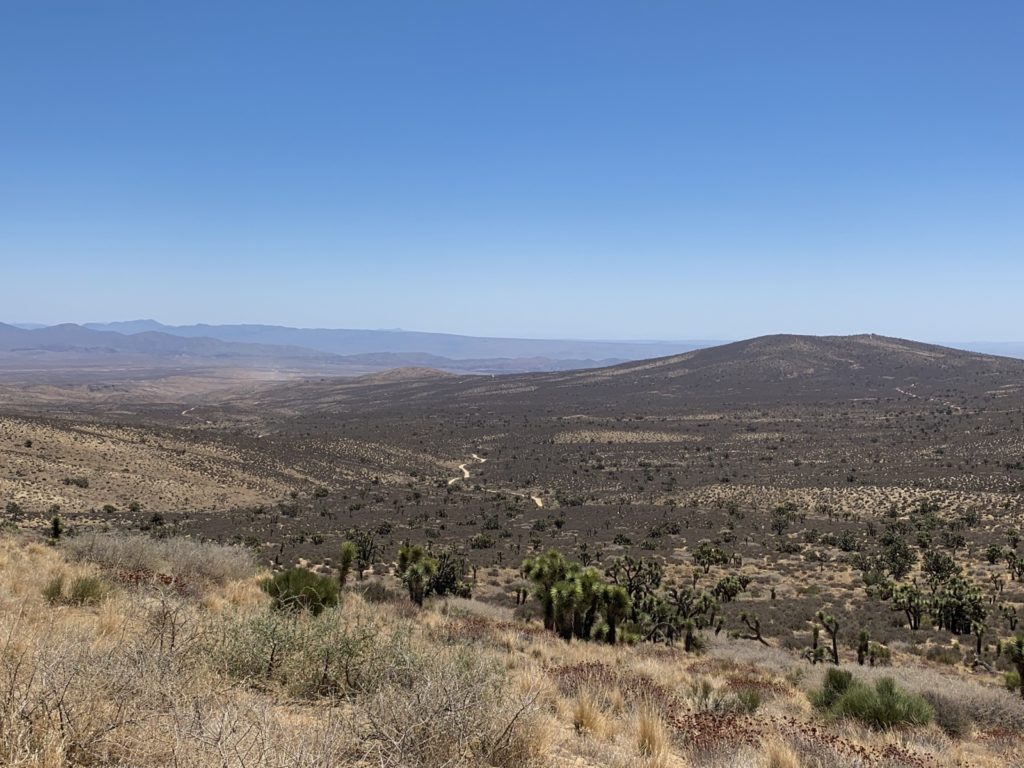 And this went on for 18 miles or so, completing a 22 mile hike today. We carried water to the first cache at 7 miles and then had nothing for another 15 miles.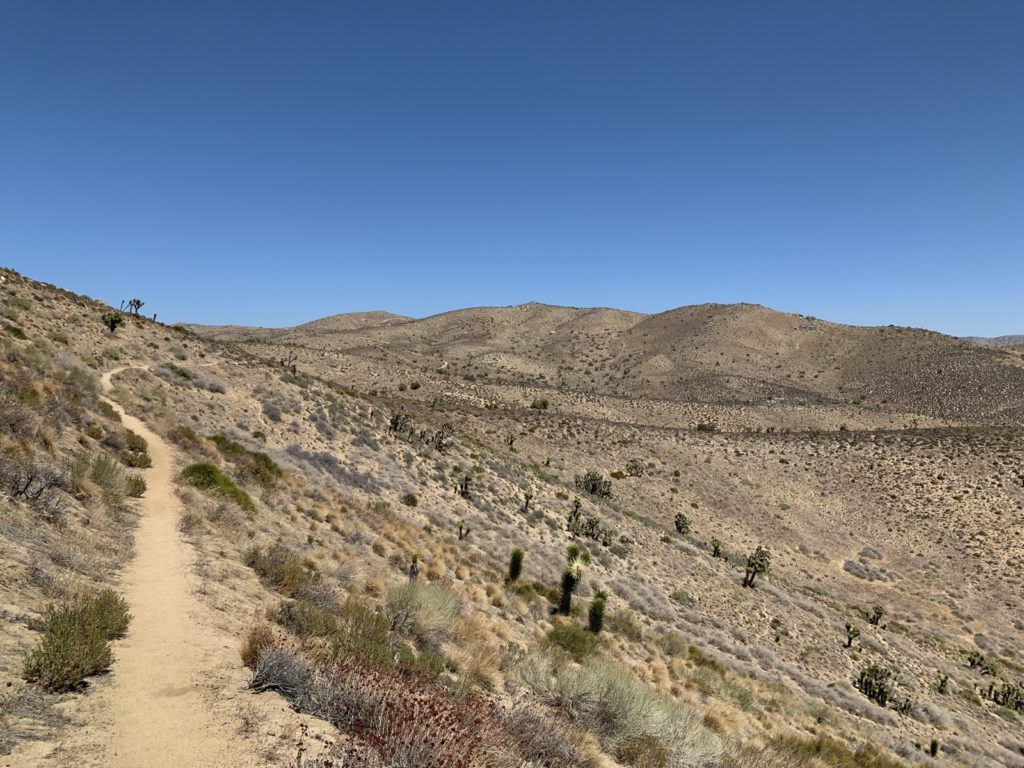 Pause and I had loosely planned to camp at that second cache of the day. But when I got there, it was blowing so hard that even the "sheltered" sites didn't look like much fun. The alternative was to load up fully with water, hike 3 miles uphill, then camp and walk another 13 miles on the same water to the next cache in the morning. I just wasn't up for either.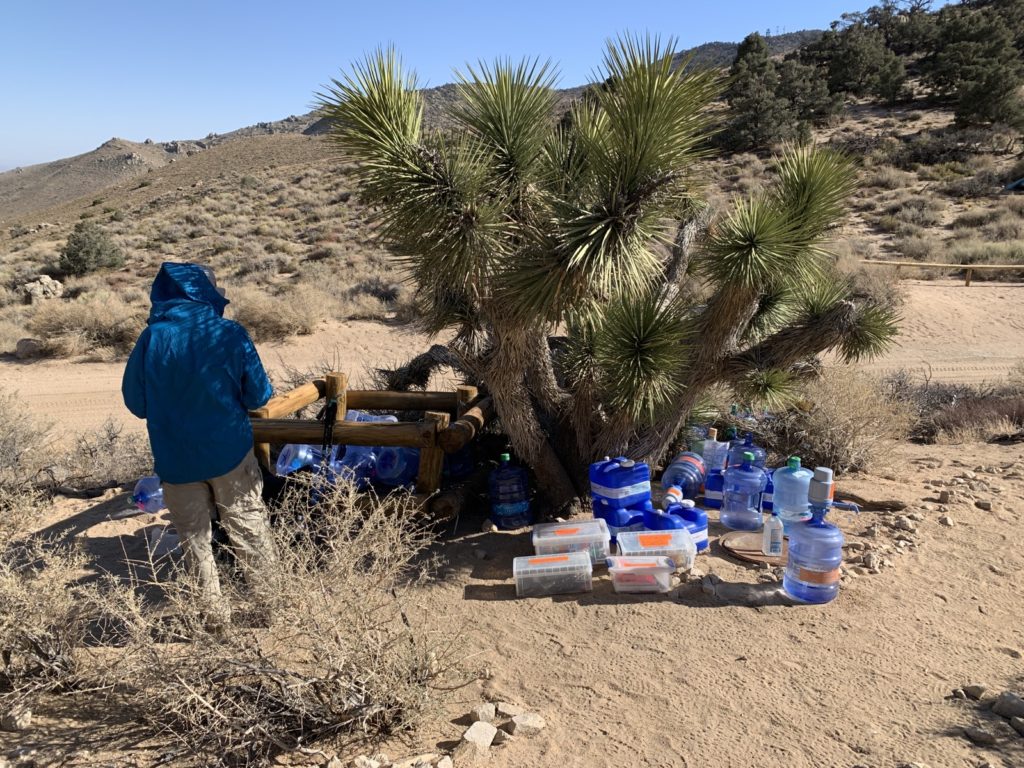 So when Pause arrived I suggested we find a ride into town. Ridgecrest was about an hour's drive away. The only person I know there from last year wasn't available, so Pause checked Facebook and after some messaging back and forth, a trail angel was on his way. He also found us another trail angel to stay with.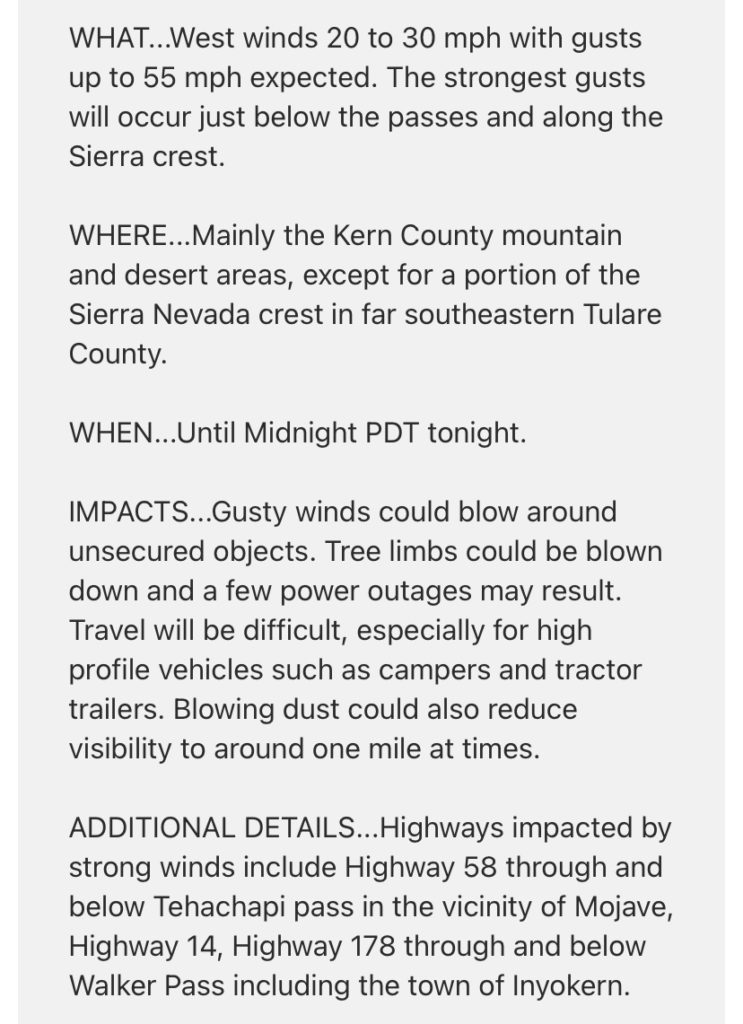 We waited about an hour for Scott to arrive. The drive down was much more of a dirt track and bumpy than it looked like on top of the pass. Good thing Scott had a truck that he fixed up himself, with big tires etc. He knows the area and all the dirt tracks well and we were glad we hadn't asked an old lady to drive up this road in her car 🙂
Oh and while we were waiting, Theresa's husband and his grandson (who had gotten me the ice cream near Landers) arrived on their horses. It was great to meet Bill, and we managed to get the horses some water with a big Ziplock bag. They had to walk 4 miles down the road to meet Theresa and the trailer.
He took us to Laura's house where we were welcomed and each have a bed in our own room (nobody else is here; this is by $30 per night donation). We showered and enjoyed dinner with Laura and her son (two dogs here too!). Salad, veggie burger, spaghetti, pineapple … so much better than sitting in the wind on the pass!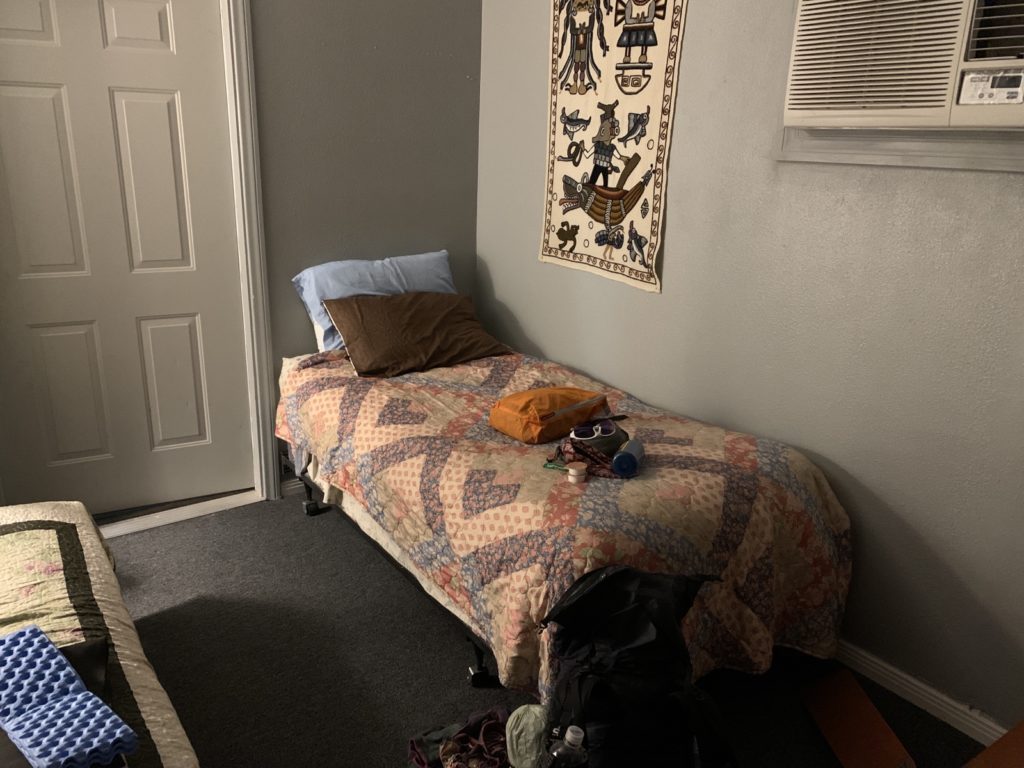 Not sure yet when we will go back but Laura is picking up a hiker on Tuesday morning so that might be our exit (50 miles remain to Kennedy Meadows). Then 2.5 more days and it's done!