In this post, I will explain the electronics and technology I carried with me.
To recharge all my electronics, I carried a 10,000mAh powerbank with me. Mine is the Anker Powercore Slim that also has Power Delivery and uses a USB-C cable to charge. Together with the Anker charger which also supports Power Delivery that means much faster charging times. It becomes important in town when you don't have a lot of time to charge (e.g. sitting outside the Burney Falls HQ early in the morning and using their outside outlet before heading back on trail). The charger can do 36W and charge two devices at the same time; important when you want to charge your phone and powerbank at the same time. I never actually fully used the powerbank on any stretch of the trail.
The phone was amazing … great pictures (don't you think?), long battery life, fast charging. In airplane mode and using Guthook, the camera, podcasts and writing posts every day, it lasted 3 days on trail. The Ringke case protected it well … once while sitting on Kearsarge Pass, a huge bee/hornet flew at me and I threw my hands in the air … and the phone landed on the rocks. No damage, no scratch.
I carried the cables I needed (phone, watch, headlamp/Kindle/InReach/headphones, powerbank) but most of the time did not have to recharge, for example the Kindle or headlamp or InReach, on trail.
The Garmin InReach Mini worked great for daily check-ins when in camp and sending my location. It was reliable and easy to use, as well as efficient in battery use. I didn't use it for tracking or getting weather reports. My subscription included 10 custom messages which I used most months (arranging pick ups mostly). You can pay extra if you go over. I did not use the SOS function! The battery always lasted from town to town without recharging on trail.
The headphones were discussed elsewhere … I ordered them from Amazon and they promised 24 hrs of playback time which they delivered. I started with wired headphones so I didn't have to charge them. But the cable was annoying so I switched. I didn't want AirPods as you take out the earbuds often when encountering other hikers (or talking to your trail buddy) and I didn't want them in my hands, stuffed in a pocket or falling down. My new headphones were wireless (to the phone) but hung around my neck which was very convenient. The most I needed to charge them on trail was once in a weeklong stretch!
The Kindle was my luxury item and worked as well as it does at home. I preloaded books for the trip and never had to recharge it other than in town a few times. It's just so convenient and let's me read without affecting sleep (as opposed to all backlit screens such as phones or iPads).
My headlamp is the Nitecore NU25 – it's so light! I switched the band for lighter elastic cord. I barely used it … I had a lot of daylight during my hike, and usually didn't leave my tent at night and didn't night-hike. The headlamp does up to 360 lumens which is very bright. It has a lot of white and red light settings and even has an auxiliary white light. It also has SOS and beacon settings. All for $37.
I wore my GPS watch the whole time, which is the Garmin Fenix 5S. It is by far my favourite GPS watch I've owned, and I had a few! At home I record every workout with it, be it runs, swims, hikes, bike rides or ski outings. On trail, I didn't use it to record my hikes; it would have drained the battery too long. But it counts my steps, gives me elevation data, has alarm and stopwatch functions and of course tells the time (I checked it often at night with the built-in light).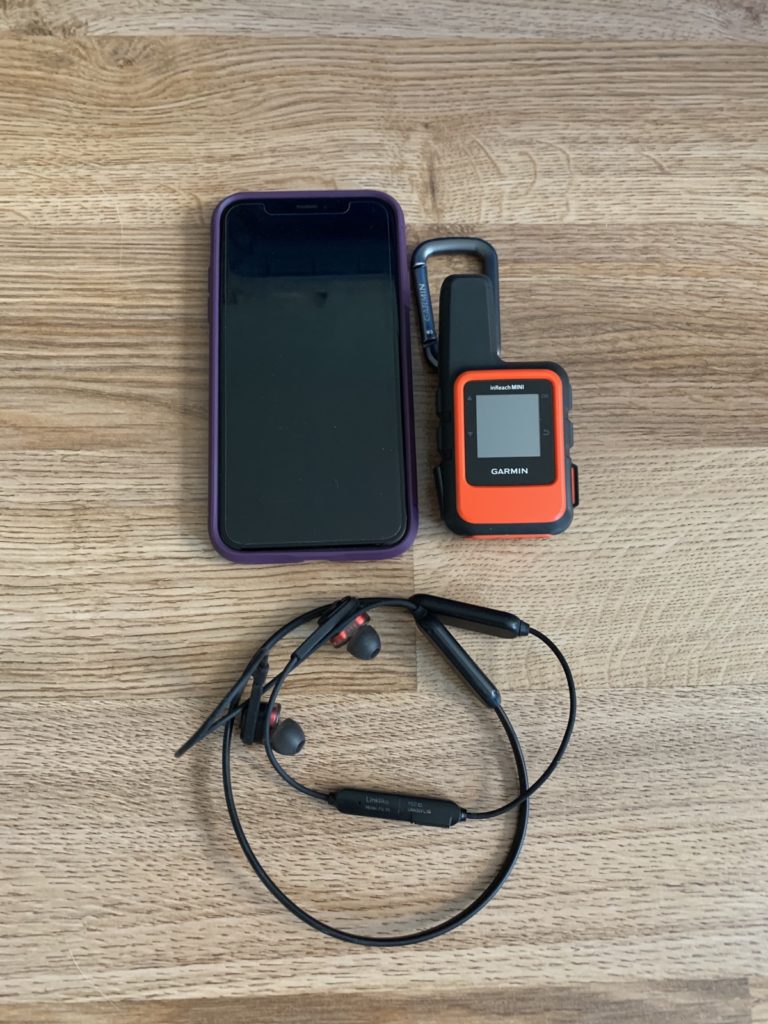 Weights:
Garmin inReach Mini: 113g
Headphones: 22g
iPhone XR including Ringke Onyx case: 235g
Kindle Paperwhite: 205g
Headlamp: 36g
Cables: 85g
Powerbank: 209g
Charger: 103g
Overall a good package that worked well. As I said, the Powerbank was never emptied completely so maybe a 5000 mAh would have been enough but I didn't know that beforehand. It's a nice slim device that charges quickly so I was happy.