A lot of friends ask about the food choices on trail. Let's just say up front: Anything goes in town! In my case, it would be any vegan food I can find. You probably remember from the "in town" posts that there was a lot of pizza, bread, ice cream, salad and kombucha. It's all a matter of how long you have in town and what is available. Candy bars, like Caramel M&Ms, were also my go-to. When I had more time in town and access to a bigger market, I looked for soy cheese, bagels, sometimes wraps. I bought apples and pears.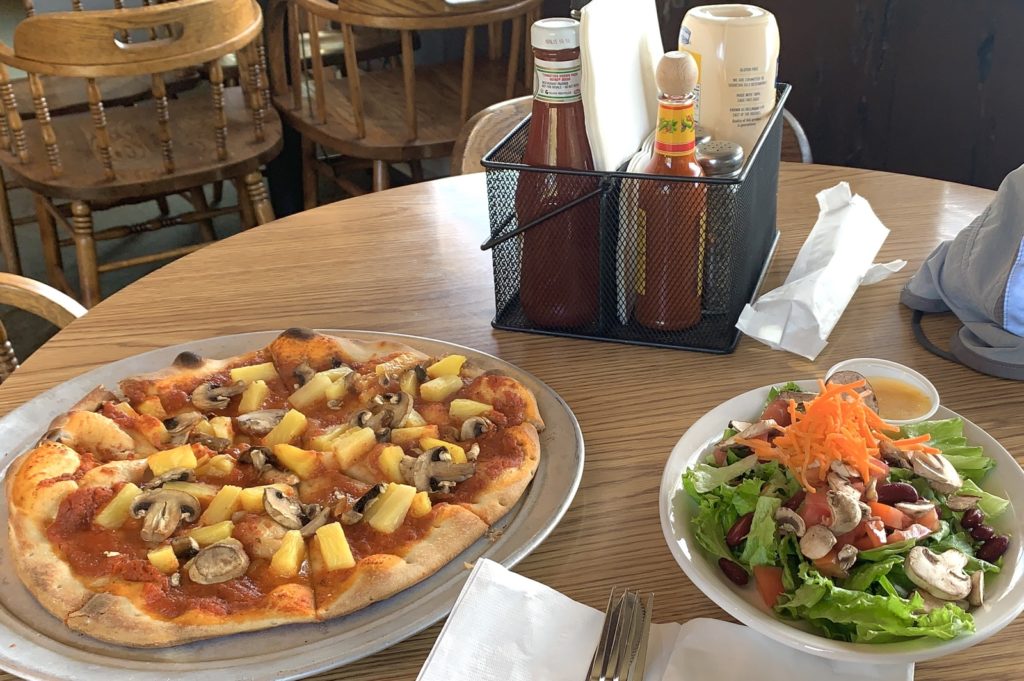 On trail, you want to maximize calories per ounce of weight. So the obvious choices are nuts (which is not something I get excited about), peanut butter, protein bars etc. Here is a list of items I ate throughout and that worked well for me:
Breakfast: I used my small Nalgene bottle to shake up a packet of Starbucks Via coffee and a packet of Carnation Breakfast Drink Vanilla with hot water (150 calories). A light shake made it a latte, a rigorous shake a cappucchino 🙂 I often put the bottle on my legs or in my jacket to enjoy the warmth on a cooler morning, while packing up inside the tent. It also quickly gets rid of moisture on the outside of the sleeping quilt when you put the quilt over the warm bottle (if quilt was damp from touching the tent walls even though condensation wasn't a big issue in my tent; also the down is hydrophobic so it was just the surface material that was damp). And as I said before, that bottle used as a hot water bottle for a cold evening when going into your quilt is heaven!
I typically started walking without breakfast and stopped 2-3 hours into my hike, depending on terrain. Then I ate some food, often either a Protein Bar (I like the Clif Builders Bars) or, when I was really hungry, a Greenbelly Meal. Those bars are great as they provide a lot of calories in a compact bar. Another new addition to the meal bar industry are Range bars. I found them in Portland and tried two on the trail. They are even smaller and even higher in calories, and taste good!
As a side note: I practice Intermittent Fasting in my everyday life. This is not something I decided to do or got into the "hype" for. It is something that comes natural to me as I do not like eating early in the morning, and I prefer to work out before I sit down to eat. I also do not feel good when I eat late so stopping at 6pm is what my body naturally prefers (I eat between 10am and 6pm). I didn't give it the fancy name but realized a few years ago that it is something that nutritionists recommend to give your body time to focus on the important processes: Ketosis, growth hormones, insulin regulation, immune cells. It has worked for me and has kept me healthy – I can't even remember my last flu or other serious health issue!
In terms of bars to be eaten on trail during the day: Somehow everybody who hikes for longer than 2-3 days agrees that you cannot stomach Clif bars anymore after that time. I do not exactly know what it is about them, as I have no problem with them if I eat the occasional one during bike rides or races. But for multi-day and -week hikes they just don't work.
I bought a variety of bars to be eaten during the day. I like the Polish sesame snacks (220 calories), Bobo bars (260 calories) and had many of the Costco trail mix packets.
Sometimes I had bagels left from town, and I did carry a peanut butter jar once and a Nutella jar once (they are heavy but go empty quickly!).
I also looked for peanut butter single serves whenever I was in town but not a lot of supermarkets carry them. The award for the best supermarket I have encountered goes to Raley's in South Lake Tahoe. Just fabulous!
Dinner: When I had the meals I prepared at home from my resupply boxes (I had two food boxes with 6 days worth of food in each, and two boxes with new shoes that also contained some food), I often ate rice & beans (instant rice and dehydrated beans; Andrew Skurka's Rice and Beans are a classic) or couscous with dehydrated vegetable flakes. Those two, as well as Ramen, cook quickly and can also be coldsoaked within half an hour.
My absolute favorite is still "Hiker Pad Tai", Ramen (the soy flavour) with PB powder. I had a lot of that powder stashed into my resupply boxes and it elevates Ramen to a whole new level. On days when I was very hungry I even poured some more PB powder into my pot after finishing the meal, added water and ate some of the PB straight up! For the Ramen, I never use the whole salt packet, even on trail. Instead, I use half, and add a "capsule" of taco seasoning (homemade!). I also added random other things I carried, such as ketchup single serves, black pepper or nutritional yeast from my boxes.
One of the most important things to remember for me was to use electrolyte drinks. With the constant sweating, it is easy to get into a bonking state when you don't replace the electrolytes. So I carry a tube of Nuun at all times, and I am actually too lazy to stop and dissolve the tablet … instead I eat them and then drink water. I love the fizz in my mouth when I'm hiking!
I did carry my stove the whole way but did have nights where I just coldsoaked the food, avoiding the cooking system setup. I wanted to have the option to have a hot drink in the morning; I think I had my breakfast drink cold only 3 times.
One of the gear items I replaced was my 1100ml Toaks Titanium pot. I like the size to have extra room for stirring and mixing (usually the meals are made with 400-500ml of water) and it fits the medium size gas canister. But I found it awkward to pack in my backpack. So I switched to a 750ml Titanium pot which is the standard size for many backpackers. It fits the small gas canister (4oz) which typically lasted me 3 weeks of twice daily use.