Again, random numbers and facts that come to mind. Not sure it's all that interesting but you'll be the judge!
Drugs/medical
I did not take a single Aspirin, Ibuprofen or other NSAID on this trip. As a preventative measure I took turmeric and a Greenfood capsule each night. That's it. I was never achy or in pain – but of course there were evenings with tired legs and body. I had no injuries, blisters, sprains or cuts that required cleaning. I used my peroxide once for Theresa's scrapes and once helping another hiker at Burney Falls camp (he cut his finger).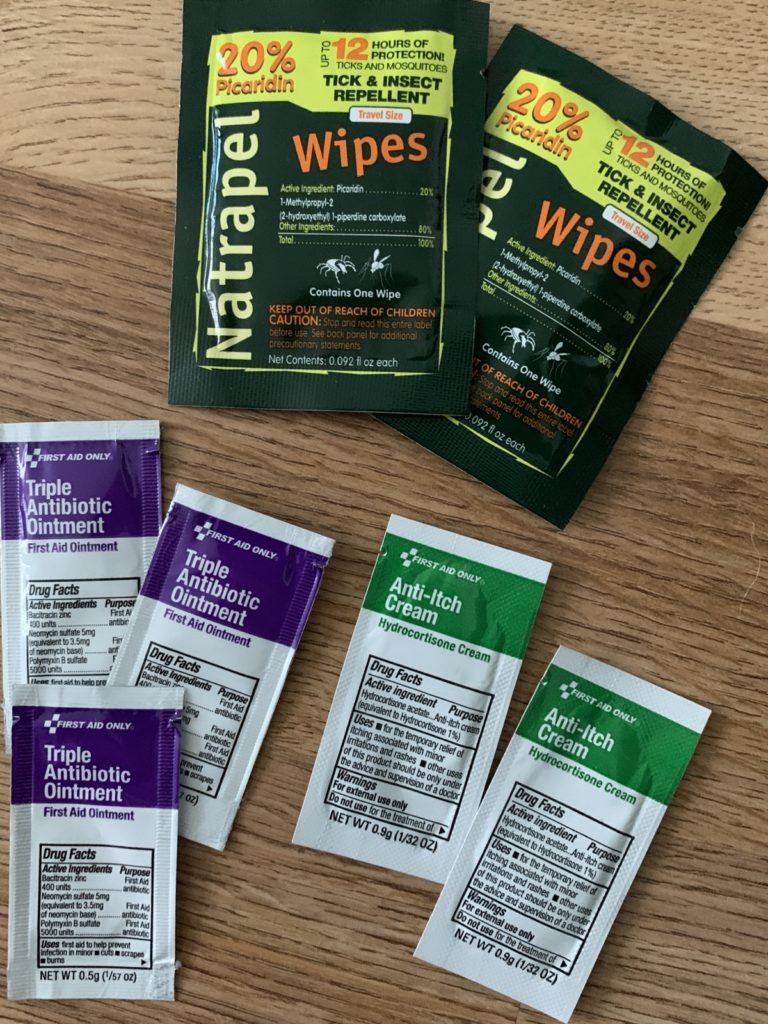 Adding to my medical kit, every resupply box had more single-use packets of Neosporin and anti-itch cream and I used exactly one (for an itchy bug bite). I carried anti fungal cream and zinc lotion for chafing (Penaten) … used it once but never had serious chafing issues (see comments on my "beloved" backcountry bidet!).
Shoes
As keen readers of the blog might already know, I used 3 pair of shoes on this hike. I started with Altra Olympus, a brand I've run and hiked for years. This particular model is the most cushioned, and I figured it would be good for the start to get the feet used to the trail.
I switched to Topo Ultraventure which also have a wide toebox like the Altra but are supposed to be more durable. They lasted quite long but the 5mm drop is not for me – I prefer zero drop shoes (and caught the tip of the shoe in rocks in the beginning). Then I finished with the Altra Timp 1.5. Back to what I know and like. Great shoes!
For camp shoes I had the Xero Z-Trail. Comfy and light sandals that pack down small. I wanted something for town and a shoe I could hike in if I absolutely had to (let's say I threw my hiking shoes down a cliff in Cheryl Strayed fashion 😂). They worked out great!
I never had any blisters, and all the blister pads, peroxide and Leukotape I brought remained largely unused. I did put Leukotape on my big toe twice when I switched shoes, as that toe sometimes rubs against the second toe and I wanted to avoid bigger issues. If you don't know already, Leukotape is amazing. It prevents blisters and stays on for days even through showers and a lot of walking. Magic! I usually put strips of it on pieces of plastic straws and keep it with my toiletries.
Backpack weight
I often get asked about the weight of my backpack. Since I had to mail a few items to the US before flying down (e.g. trekking poles and gas canisters cannot be brought on board), I could not weigh my backpack before starting the hike.
I do know that at its heaviest, it was 29lbs. That was in the Sierra when I had the bear can (2 lbs) and 6 days of food loaded into it. So the maximum after that should be 27lbs without the bear can and a full food load.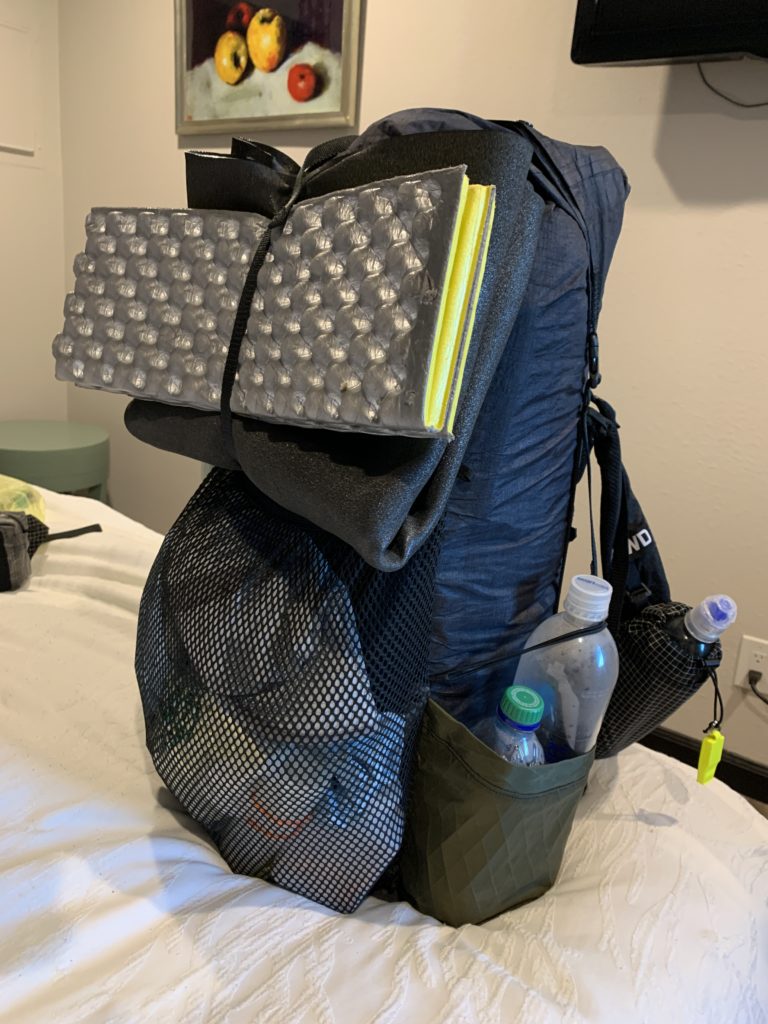 I would think that I typically carried 20-23lbs on average. When the backpack is heavy, it had a huge impact on my shoulders. My left shoulder got pulled in my early slip on snow in the Marble Mountains and was very much affected by heavy pack carries.
Uncomfortable situations
Another question that gets asked often is whether I was every uncomfortable. This can refer to physical or other comfort.
With regards to people: No I was never uncomfortable with anybody I met. I did never feel creeped out, in danger or otherwise negatively affected by anybody I met. Sure, some people I connected with quicker or better than others. But all conversations were enjoyable and enriching. I never had a ride in a car that was uncomfortable, even though my trail angels spanned the spectrum from scruffy Kansas gold miners to "Miss Daisy" ladies in their 80s. After most of my hitches I wished I had more time to chat with that person.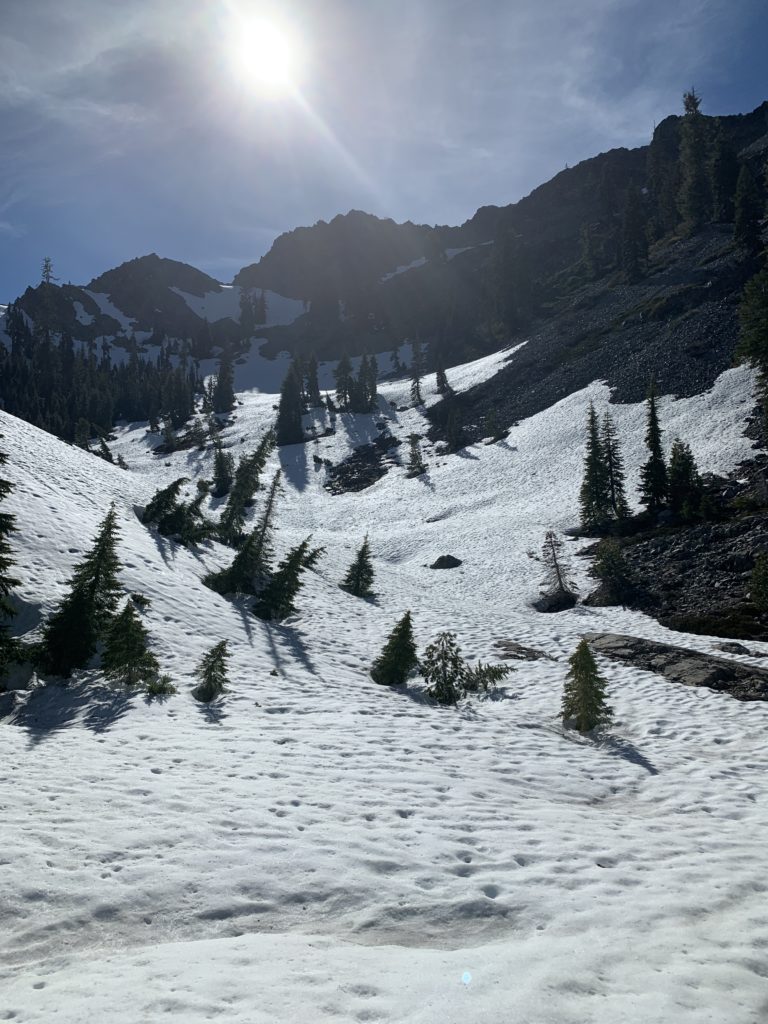 With regards to physical comfort: The long lonely snow traverses in the Marble Mountains in California in May were sketchy and there were times when I did not feel comfortable. I didn't feel in danger as I was being very careful but I did wish for more people around or access to microspikes (got them sent later and then carried them forever without ever using them as the snow was gone!).
Feel free to ask questions below … happy to answer!