One of those days that ends differently than planned 🙂 But that's part of the deal for the PCT …
In the morning I evaded the skeeters by packing up everything inside the tent and then just quickly added the tent and groundsheet to the pack. The Permethrin-treated clothes actually worked okay but those buggers always find a way to exposed skin! 🦟
If you're walking at a quick pace, you can outrun them. Any slowing down brings back the swarms 🙂 So I moved quickly and covered more than 7 miles before getting to a ridge that was supposed to be breezy … and it was. I ate, I had phone reception and got organized.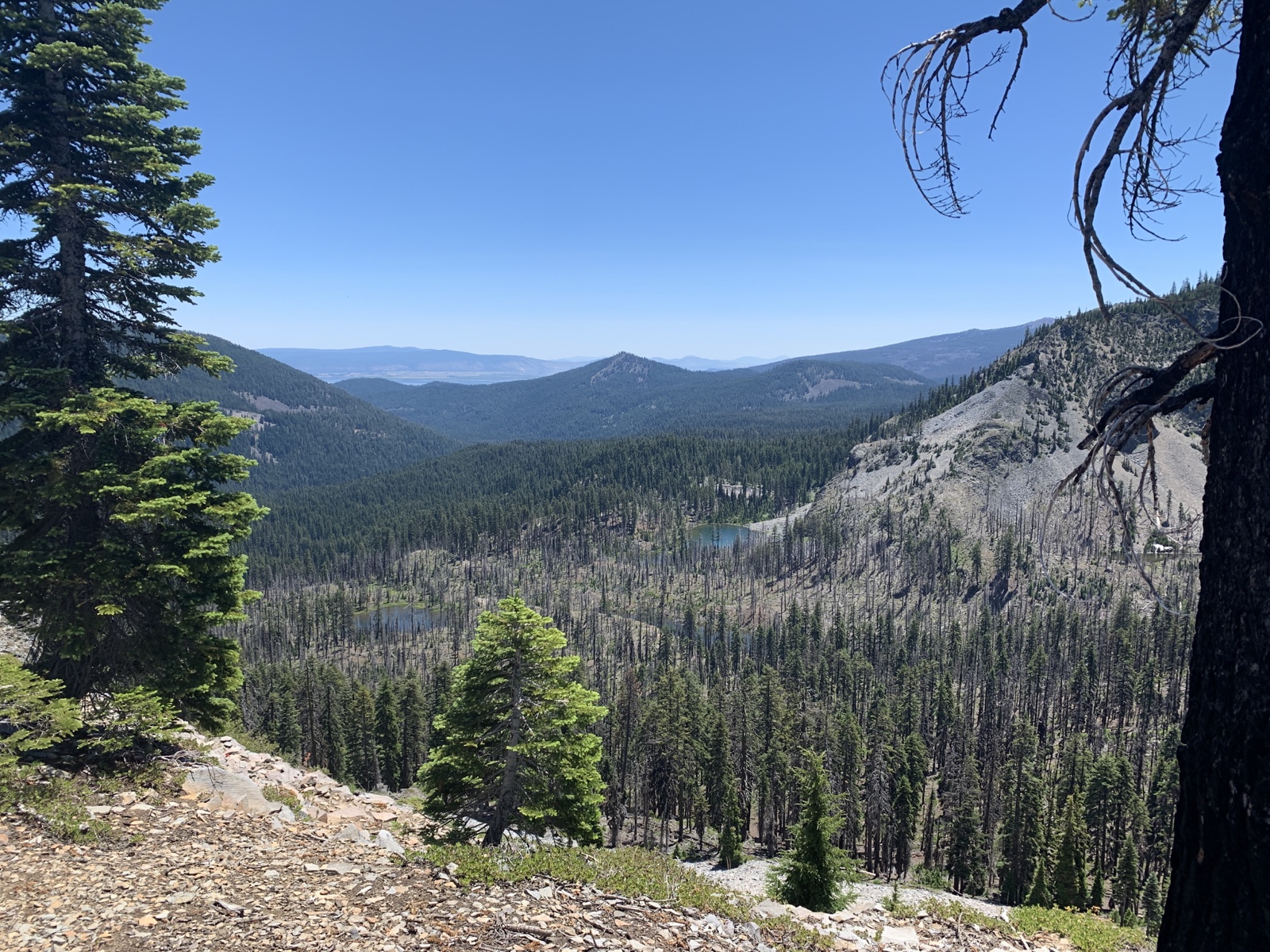 The walking was steeper and more exposed today, with burned areas, a few high points and some views. Much more to see, and I enjoyed the change! Quite a few lakes were visible along the way, off to the sides.
I climbed over the pass by Devils Peak and saw the only 2 people for the day. There was even some snow on the north side which I scooped up and used to cool down my neck and wrists!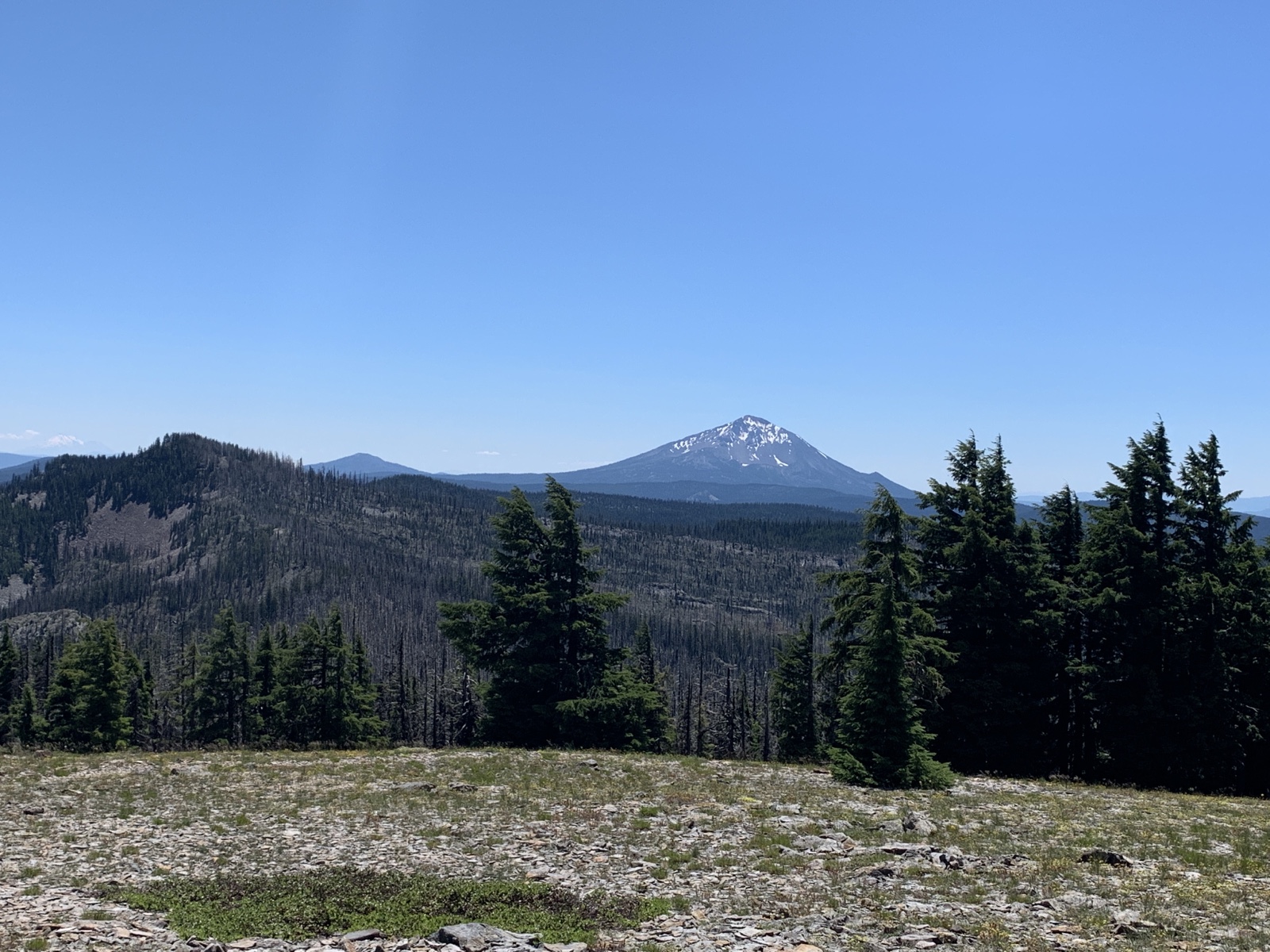 To avoid wildlife issues, I stopped for dinner around 5pm at the last creek for the day and the next day … a long water carry all the way to Highway 62. I had dinner, sealed the food, cleaned up and filled all the water containers. The pack was very heavy!! I wanted to cover a few more miles until 6:30pm or so, reducing the mileage for Saturday.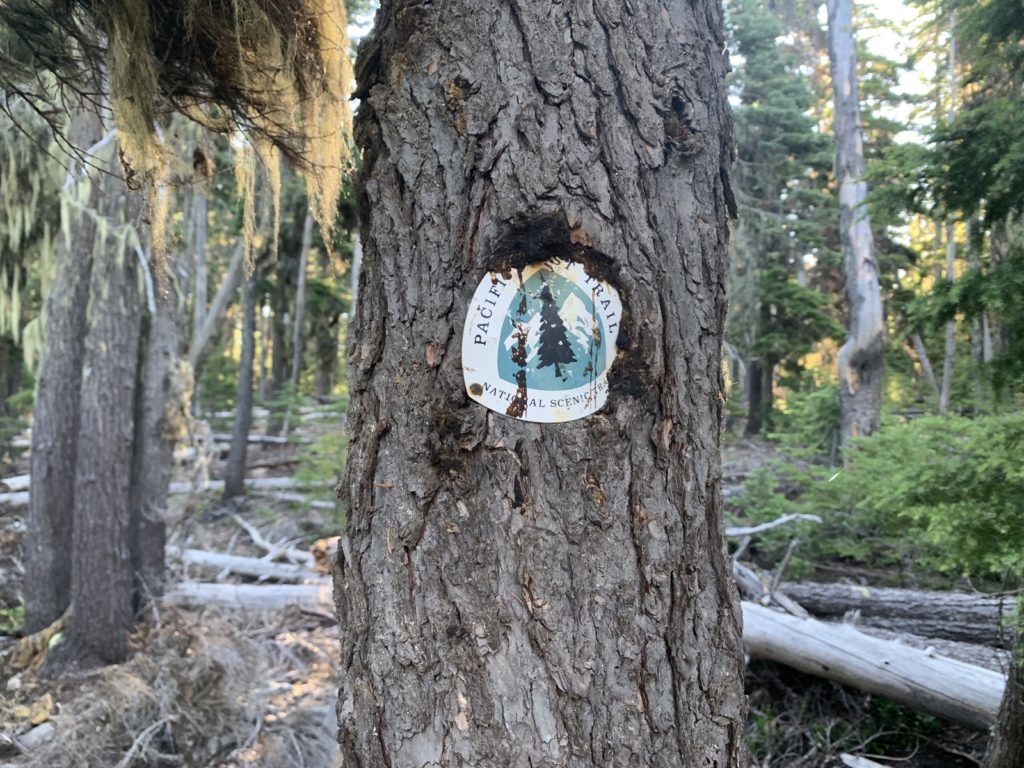 Just as I was getting closer to looking for a camp spot, I came to a junction. The app said the side trail was 2 miles down to a trailhead that is busy and also has a campground. Since I was back in the forest with nobody around, I thought it was a good idea to have some company for the night or even just a campground at lower elevation. I hiked down and found out that the trailhead was deserted and the campground didn't exist! No weekend or overnight hikers parked there, no sign of "life". It was actually a very creepy-feeling area! I wasn't able to carry the heavy backpack back to the PCT (at that point I had done 22 miles or so) and didn't just want to camp in the woods off the trailhead with lots of blowdowns and who knows what going on at night 🙂
So I asked Kathy for a "rescue" … not wanting to be stupid about doing something unsafe … though I should be self-reliant 😂 Camping alone in the wilderness is of course part of the game and I have done it many times. But my gut said that I shouldn't push camping here and alone.
Kathy is amazing and mobilized Beccy's husband Andy to accompany her. He knows every square inch of the trails in the area it seems! I walked down the road a few miles and met them just as it was getting dark. Very lucky to have friends like this 💕
I slept well after the busy night previously, and will be resting today. The heavy pack strained the neck a bit so no backpack today! Tomorrow we will be going to Crater Lake as planned and I'll figure out next steps from there …