I cannot believe that June is already over! It flew by! Many miles covered and many experiences had. And today's theme? ROCKS 😂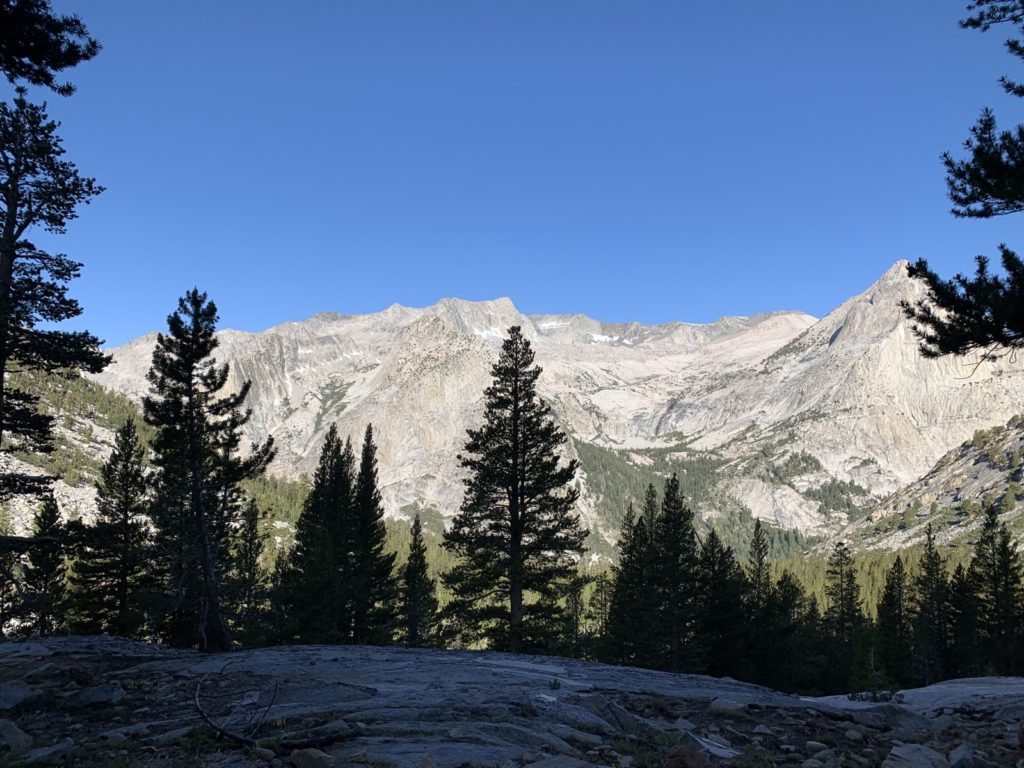 I got packed up quietly while the neighbour family slept in. Views across the valley were spectacular and distracted from the 5 mile uphill to Bishop Pass.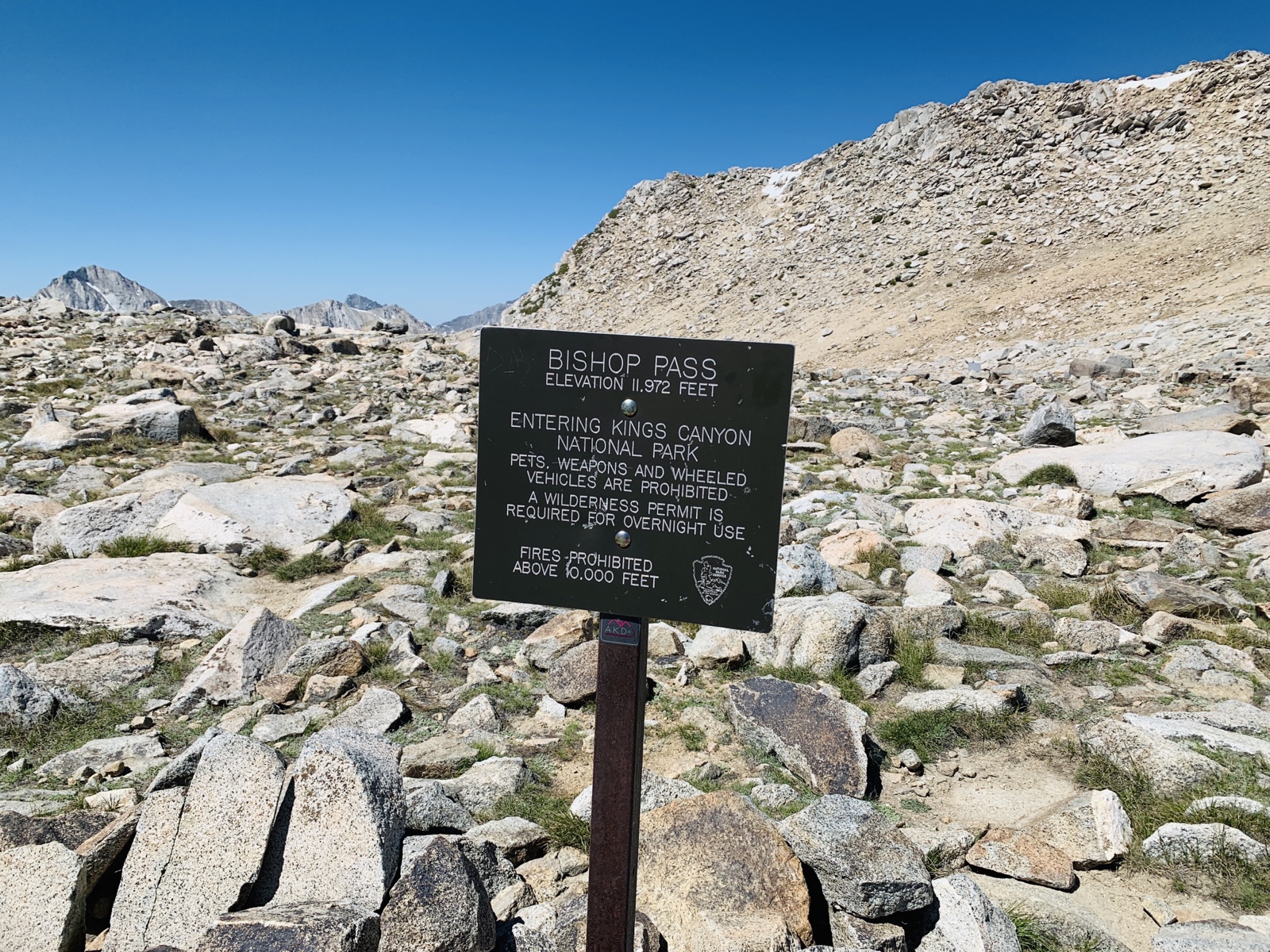 I enjoyed Dusy Basin with the refreshing green and trees. It was sunny and calm, and after a few hours the pass appeared. On both sides of the pass, you guessed it, the trail featured rocks and rock stairs and rock slide fields.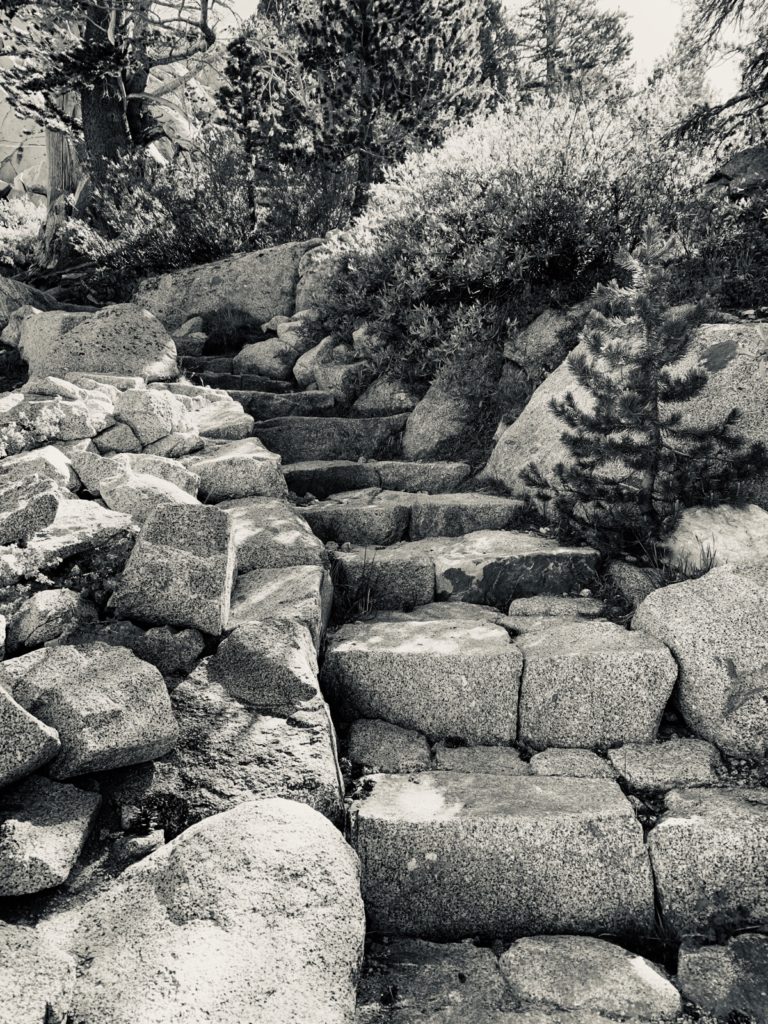 The views were great and I was pleased to have chosen this side trip. On the other side there was some snow, and the descent to South Lake took a while due to the steepness and trail conditions.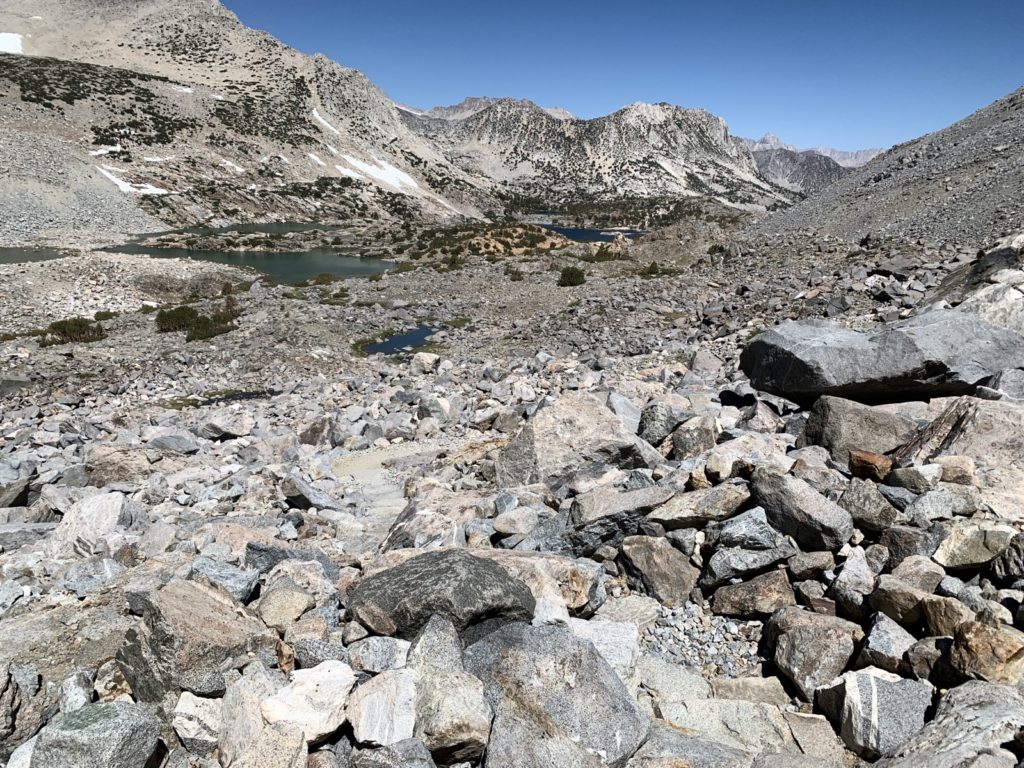 I even ran into two guys who work for a pack outfitter (horse tours) who were shovelling a path into the snow field so that the horses could go through. They had just started and it looked like an all day job!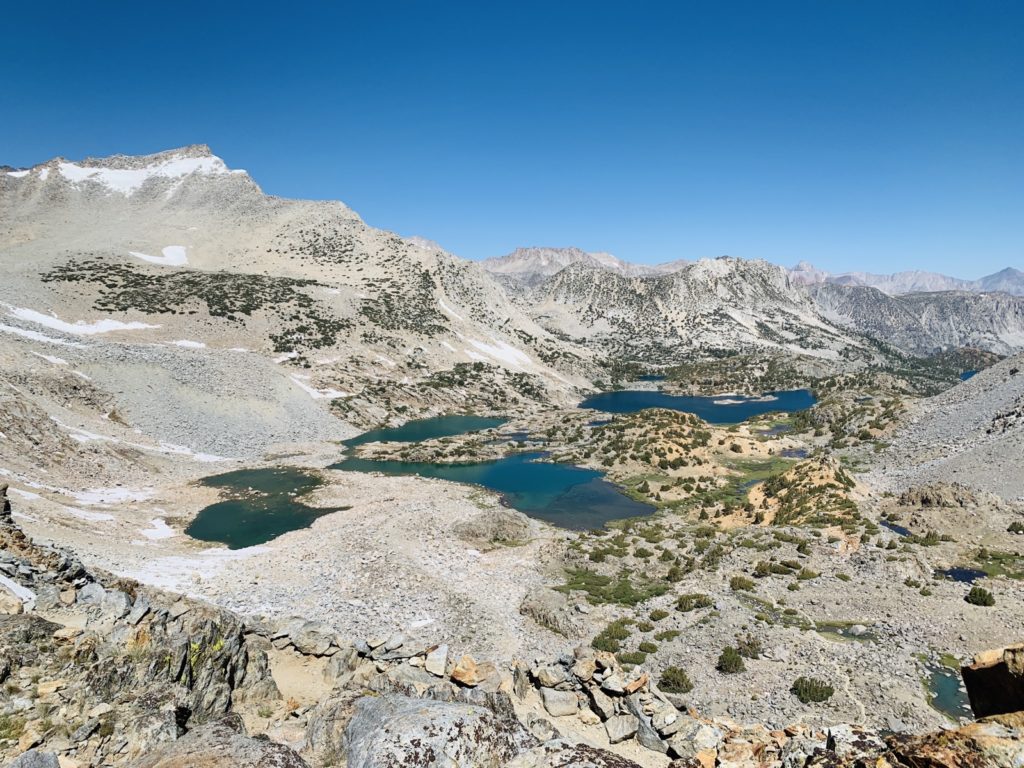 I ran into another PCT hiker, Sean, who was on his way back to the PCT. We had a long chat! I got too distracted by this and other encounters, and by the time I got close to South Lake, I was very hungry and out of energy. After an "emergency" stop for many handfuls of trail mix (highest calorie density) I arrived at the trailhead and found a ride into town.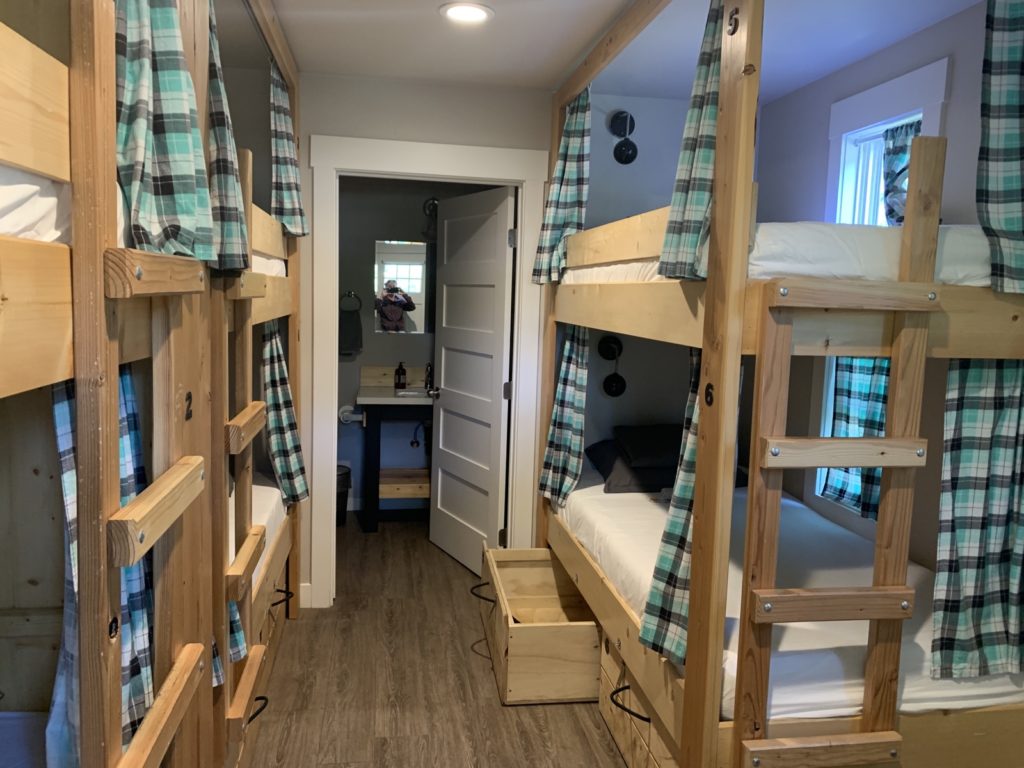 I checked into the "famous" Eastside Hostel which is amazing! A whole new standard of hostel! Modern and clean, with an inviting common room and kitchen, with everything you might need, rolled-up doors so it's almost outside, nice bunk beds with privacy curtains, every bed with sheets, towel, water, ear plugs and lockable storage … free pour-over coffee made by the owner and much more. And I'm the only guest in my bunk room tonight.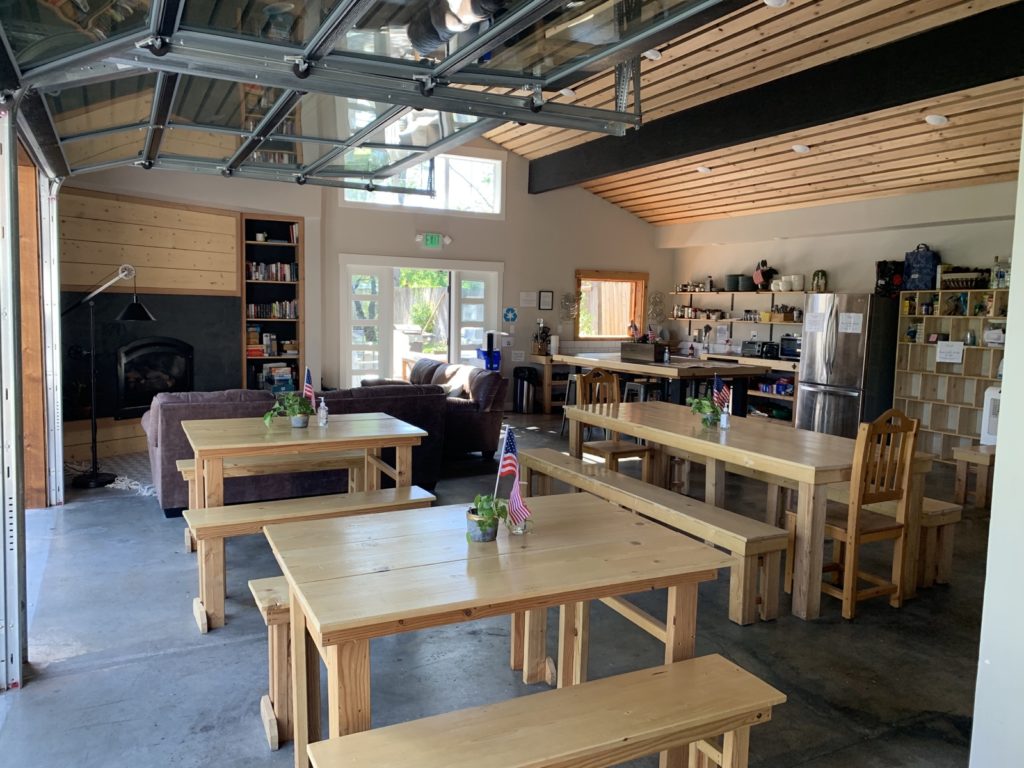 Tomorrow I'll be resting and eating! Already looking forward to checking out the "euro-style" bakery next door (pretzels??) and of course Looney Bean! The package with my shoes should arrive Thursday. If not I might have to stay longer … oh no 🤪
Shoes: I have been impressed with the durability of the shoes I've been wearing. The Altra Olympus have been great, and only now is the upper mesh showing some signs of tearing (650 miles or so?). The rocks of the Sierra have completely flattened the tread though, and given the many many creek crossings on logs and boulders, I'll be switching to new shoes here. I already bought two additional pairs before I started (switching to Topo Ultraventure shoes now).