Time to get back on the trail! Funny how this works … a night inside is great but your body is wondering when it will finally walk again!
Considering the weather reports I got from Klamath Falls (rain and hail) and pics from north of Crater Lake I'm glad not to be there! Right decision!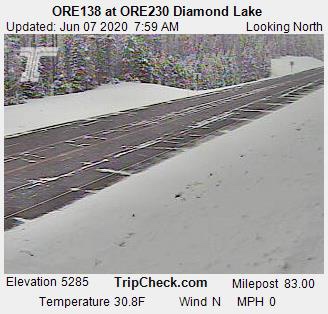 My backpack is newly organized and food is ordered to the next stop (130 miles south). I wonder what the pack weighs but I have no way of finding out …
After waiting out the rain showers of the morning, Lou (motel owner) took me the 5 miles on the Interstate to the trail. Weird to be back at the beginning!
The day's hike was a big uphill and then a big downhill. The views north to Castle Crags (hiked two weeks ago) were gorgeous.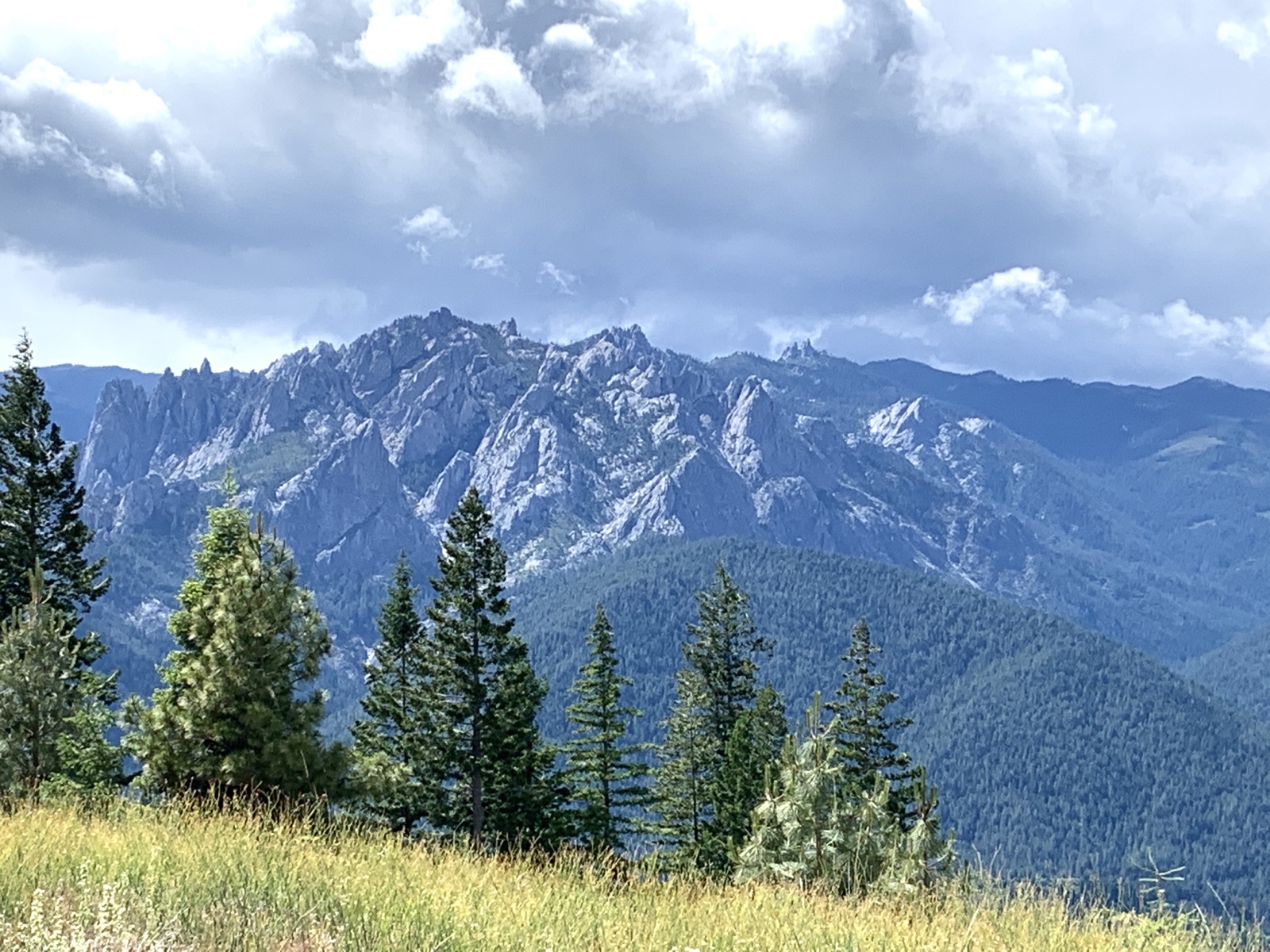 Too bad the weather forecast was wrong … I had lots of wind, some hail and rain throughout the afternoon. I hiked fast to make it to Squaw Valley Creek, knowing it has good tent sites but also a toilet. When it rains, any roof will do!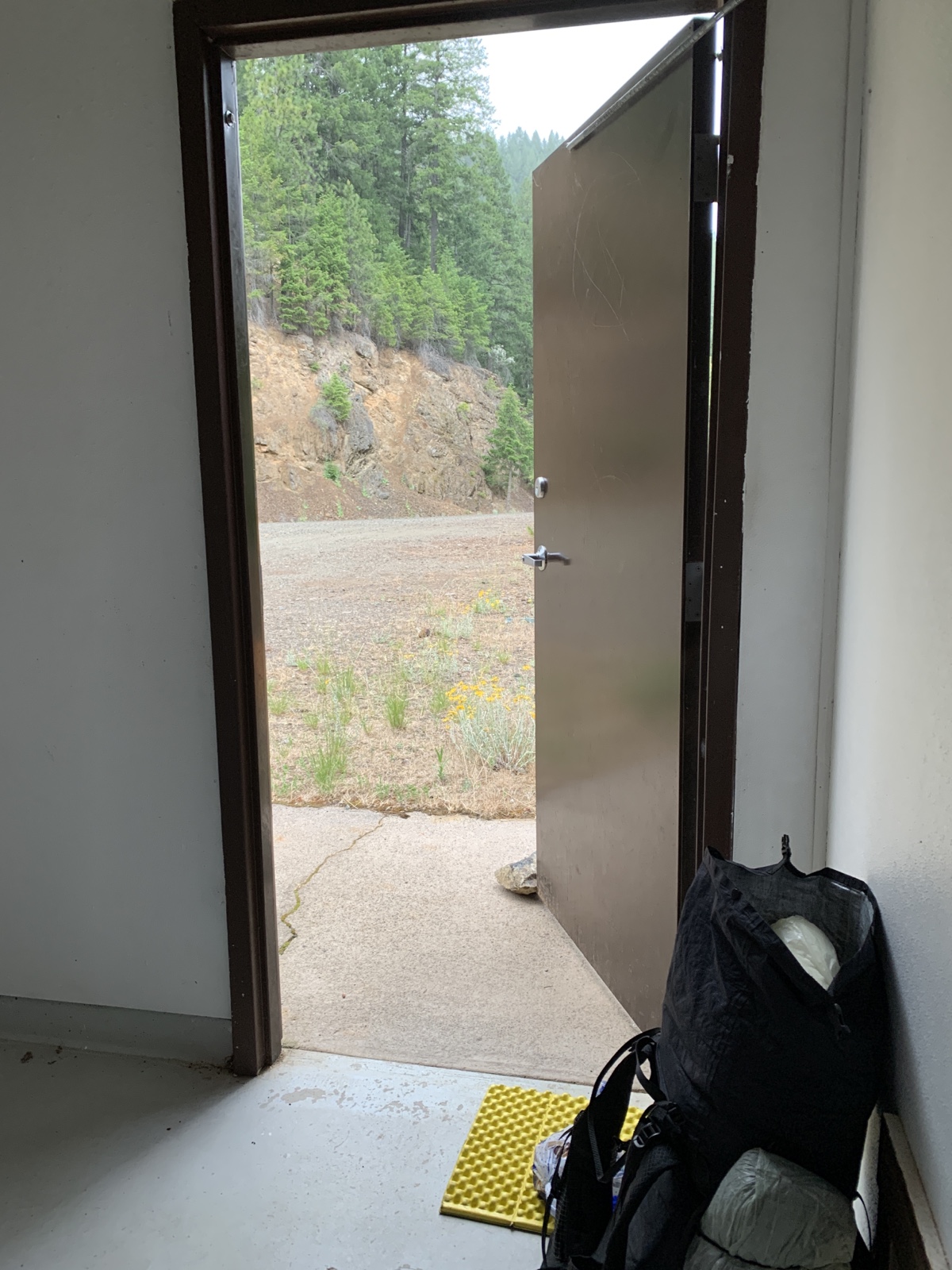 One of the experiences I wanted to have on the PCT is a night in a (clean) bathroom. Read so much about it and wondered how I would do! And since it was raining again from 7-8pm, this bathroom at Cabin Creek trailhead had to fulfill this "dream" 🙂
It sounds worse than it is. I put my big groundsheet down and all my stuff was on it. I didn't need to touch anything and the bathroom didn't smell at all (I have a sensitive nose). I told the family that was camped further down that I would be in it and locked the door. I actually slept fairly well! In the morning the sky was clear again but it was fairly cold so I was glad to have been cozy inside.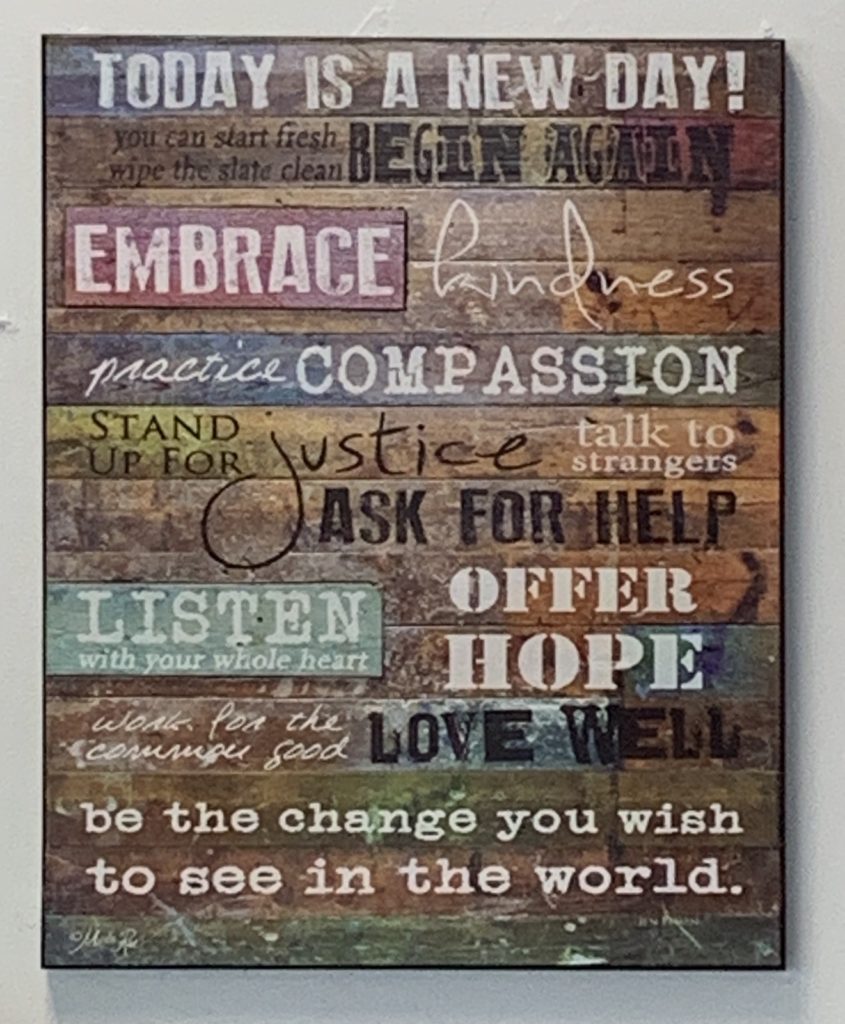 Off topic: I took a picture of this sign in the office of my first trail angel (the lady that took me from Dunsmuir to the trail the first time). I thought it was a good reminder of statements to bring along with me. Especially:
I have thought about it numerous times. I aspire to be open minded, compassionate, offer help, share myself and be interested in others and their lives. I have learned so much already! And talking to strangers and asking for help is a big part of trail life! On this note, thank you everybody at home in Canada and Germany supporting me. Thanks to Heather and Gail in Winthrop helping with logistics and cheering. And thank you to Denise, Jeff, Kathryn, Laverne, Kathy, Beccy, Loura and Theresa for being part of my adventure.